If you raise goats and live on a non-traditional homestead, you may be looking at unique ways to graze them on pasture. If so, this article on temporary goat fence will show you how to graze your goats by moving them around your property.
Goat fence ideas that fit your setup, giving you more options for your dairy goat herd.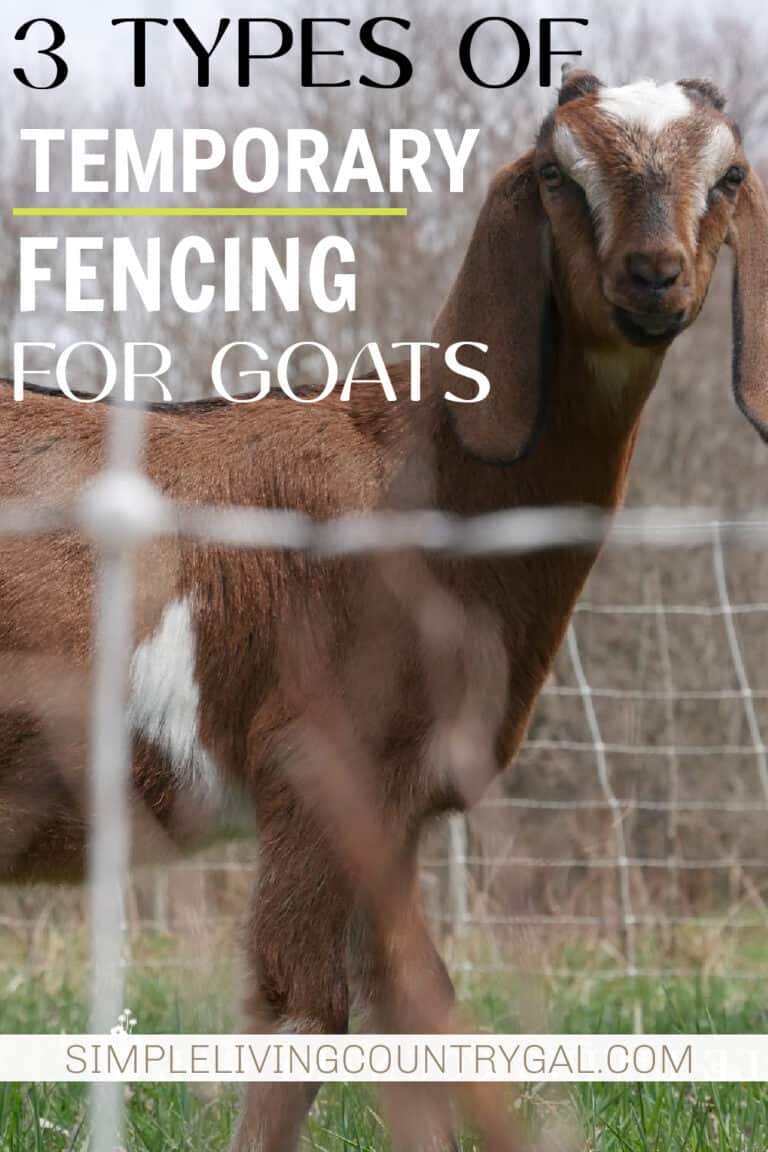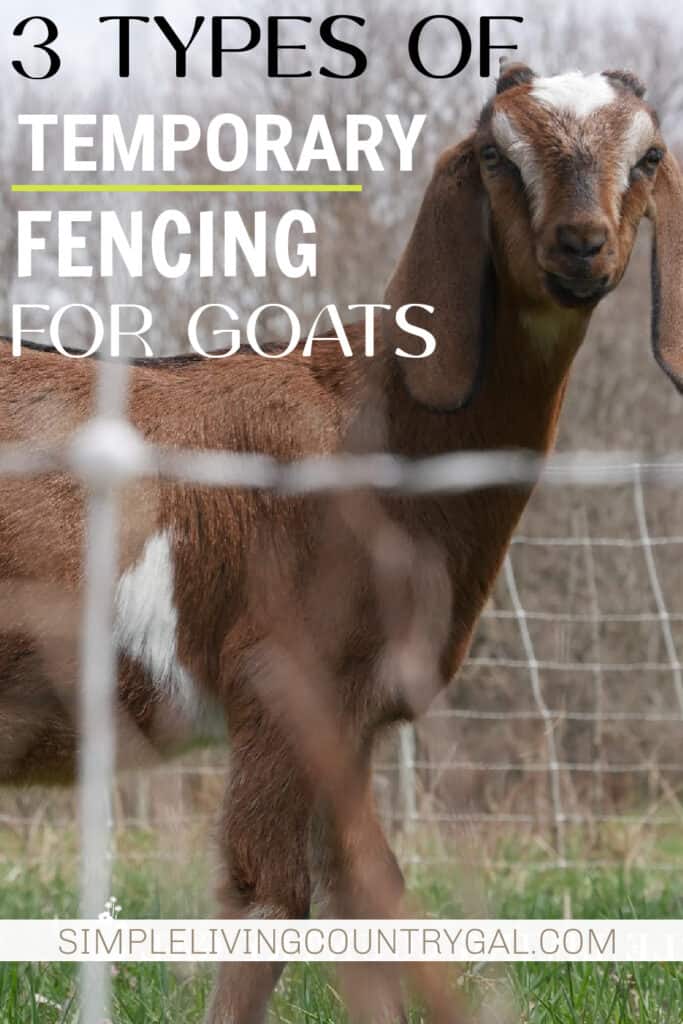 Write an intro paragraph for an article that helps the reader with temporary goat fence options so they can graze their herd in different areas on their homestead.
Sometimes raising goats needs a different approach, this is especially true if you live on a unique piece of property or have a less than optimal set up that makes it tricky to find suitable grazing areas for your herd on your homestead. This is where temporary goat fence options come into play. By utilizing different types of fencing, you can allow your goats to graze in various areas while still keeping them safe and contained.
What is a temporary goat fence?
A temporary goat fence is a type of fencing that can easily be set up and removed, allowing you to create temporary grazing areas for your goats. It is typically used on non-traditional homesteads where permanent fencing may not be practical or feasible. Temporary goat fences are designed to be portable and versatile, giving you the flexibility to move your goats to different areas of your property for grazing.
Types of temporary goat fence
There are several types of temporary goat fences that you can choose from, depending on your needs, your budget, and the layout of your homestead. Some options include electric netting, movable panels, and portable woven wire fences. Each type has its advantages and disadvantages, so it's important to choose the best option for your specific situation.
Let's talk more on each of these options so you can better choose the one that will work best for you.
TMEE Hay Feeder Goat 2 in 1 Horse Sheep Hay Rack with Grain Detachable Grain Tray Wall Mount or Hanging Feeder Heavy Duty Galvanized Steel Hay Basket for Cattle Cows Livestock in Farm
Rugged Ranch Products 4 Foot Long Outdoor Heavy Duty Mini Galvanized Steel Pasture Hay Feeder for Goats, Sheep, and Miniature Horses, Silver
2 Pack Feed Trough and Waterer Bucket with Clips, for Goat Chicken Duck Sheeple Dog Piglets Deer Goose, Turkeys, Goat Feeder Supplies, 4.5 Quart (Appearance Patent Product)
Solution4Patio Galvanized Steel Livestock Feeder W/Wheels, 2 in 1 Hay & Grain/Salt Feeder, Heavy-Duty Large Capacity Sheep Feeding Cart, Easy to Clean for Goats, Sheep, Horse, Ponies #B808A01-US2
GZHDIAN Hay Rack, Galvanized Metal 2 in 1 Hay and Grain Feeder, Pasture Feeder, Livestock Feeder with Moveable, Hay Feeder for Goats, Cow, Horse, Sizes (59.1
Electric Polywire Goat Fence
Electric polywire is a popular choice for temporary goat fences as it is easy to install and highly versatile. It typically consists of polywire or polytape combined with flexible plastic posts, creating a fence that can be electrified to keep goats safely contained. The electrified wire creates a psychological barrier, teaching the goats to respect the boundary and avoid touching the fence.
Pros: One of the advantages of electric polywire is that it can easily be moved and adjusted as needed. This makes it a great option for rotational grazing, where you move your goats to new areas every few days or weeks. Additionally, polywire is relatively affordable and lightweight, making it easy to transport and store when not in use.
Cons: Electric polywire may not be suitable for all types of terrain and may require regular maintenance to ensure the wires are still electrified and the posts are firmly in place.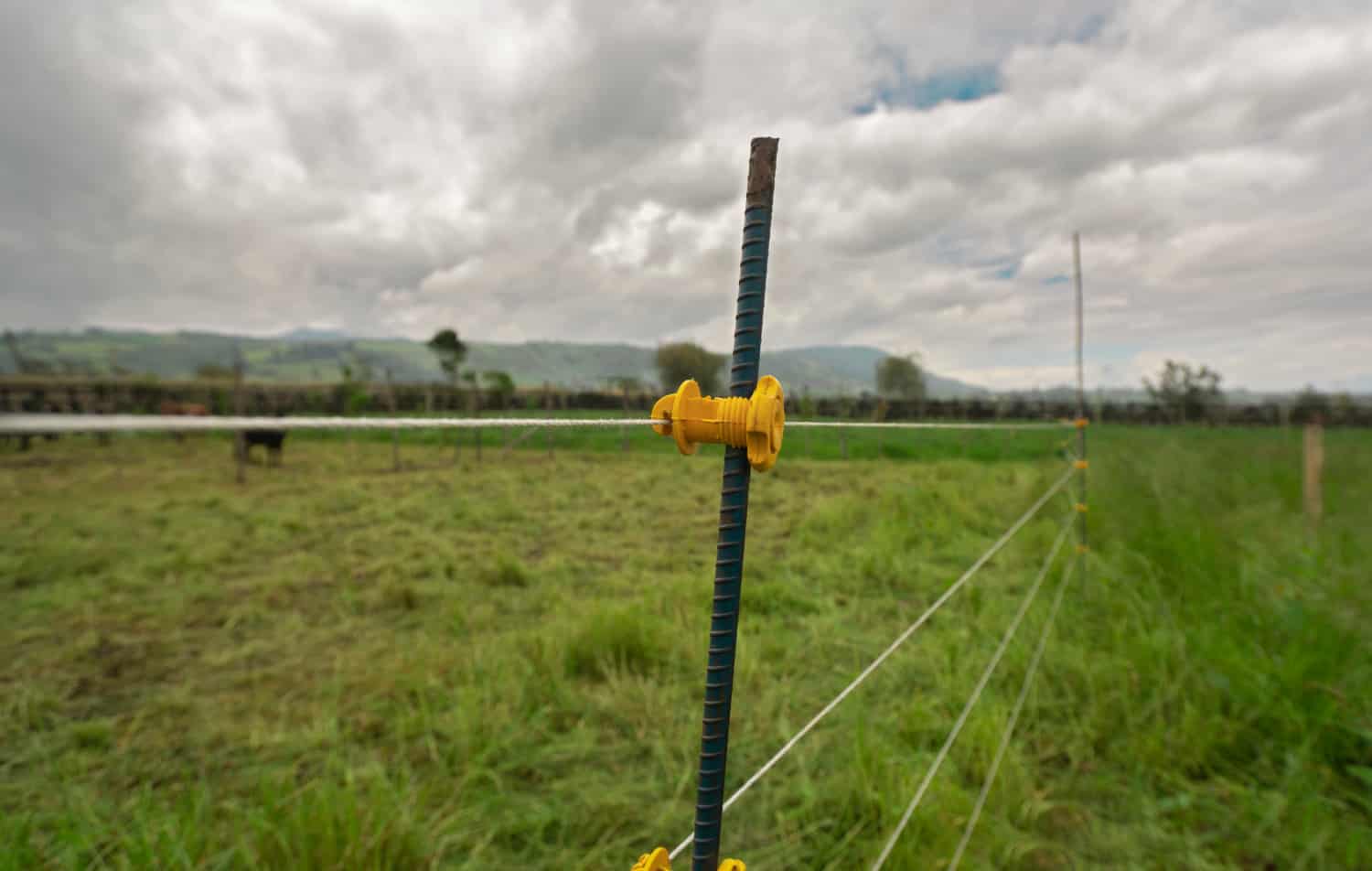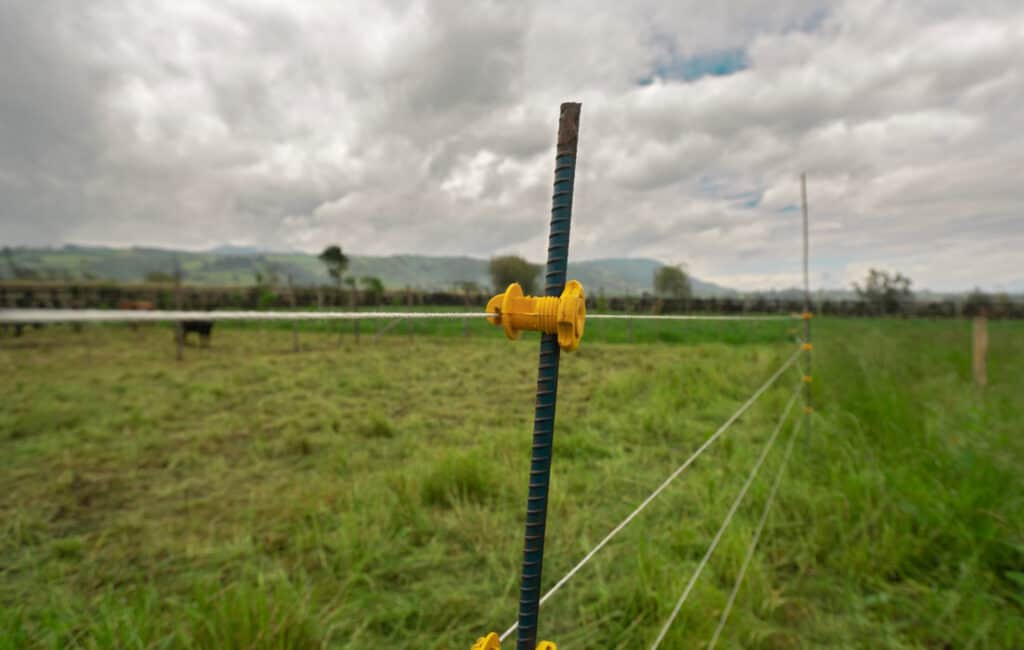 Supplies Needed
To install an electric polywire goat fence, you will need the following supplies:
Electric polywire or polytape (length and height depending on your needs)
Energizer or solar charger
Ground rod
Insulators for corner posts and gates
Posts for support (optional)
How to Install Electric Netting Goat Fence
Determine the perimeter of your fence and mark the locations for corner posts, gates, and support posts (if needed).
Install the corner posts at each end of the fence line using insulators to hold the electrified wire in place.
Install support posts if needed, making sure they are evenly spaced and secure.
Insert ground rod near the energizer or solar charger and attach it to the negative terminal.
Connect the positive terminal to the fence using insulated wire and appropriate connectors.
Unroll the electric polywire or polytape along the fence line, making sure the end attaches securely to a corner post with an insulator.
Use additional insulators and connectors to attach the netting to any support posts or gates.
Test the fence to ensure it is electrified, and there are no shorts or breaks in the wire.
Make necessary adjustments, such as tightening loose wires or repairing broken sections, before turning on the energizer or solar charger.
Once everything is secure and functioning properly, turn on the energizer or solar charger to start electrifying your fence.
Steel Panel Goat Fence
Steel panel goat fences consist of prefabricated panels that can be easily connected together to form a temporary enclosure for your goats. They are often made from lightweight materials such as metal or PVC, making them easy to transport and assemble.
Pros: These fences are perfect for creating temporary pens or corrals that do not require electricity. They also provide a sturdy barrier, making them suitable for containing goats that may attempt to escape.
Cons: Movable panel fences can be more expensive than other options and may not be suitable for long-term use. They do require heavy work to install them and may not be ideal for frequent moving.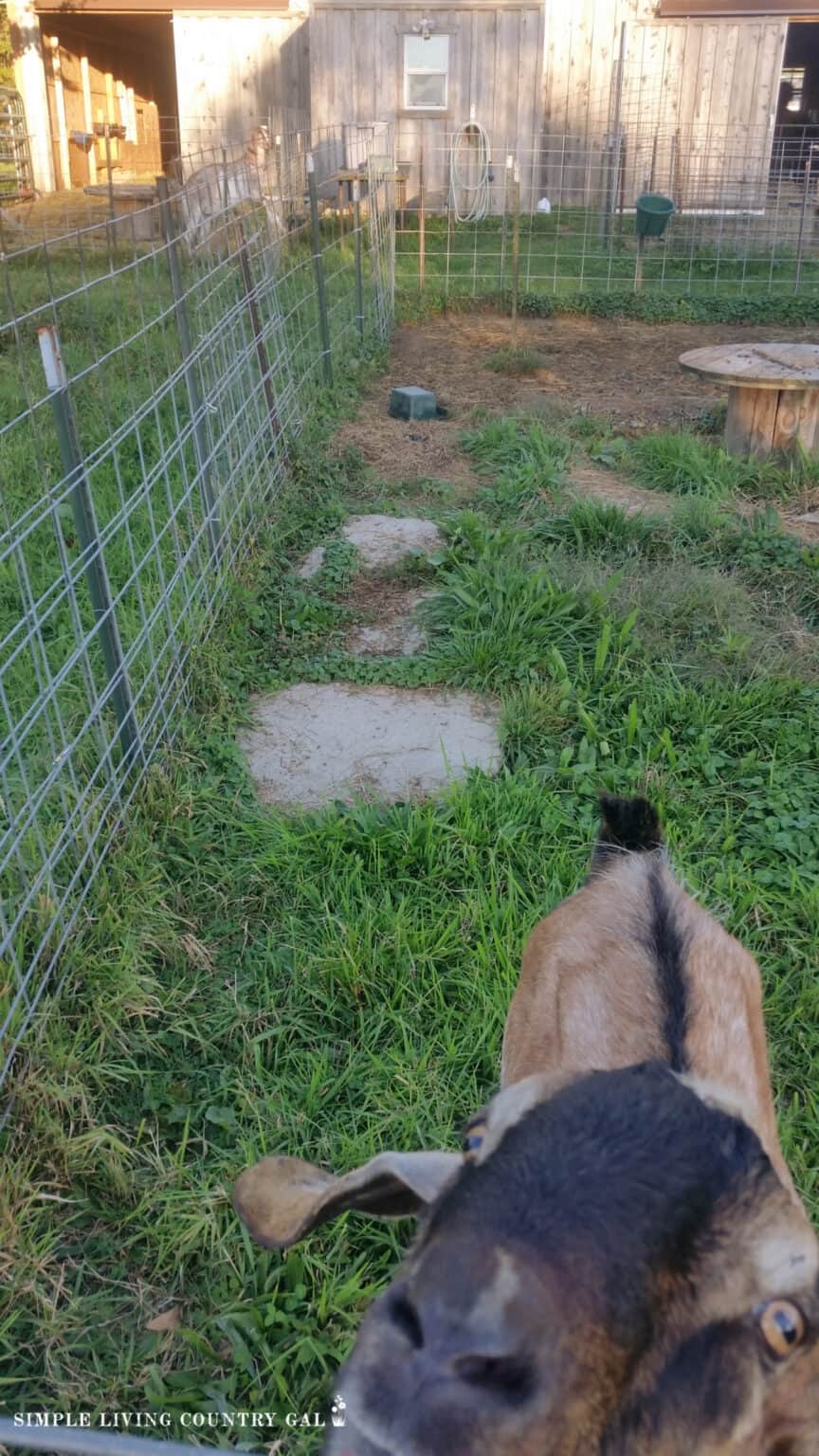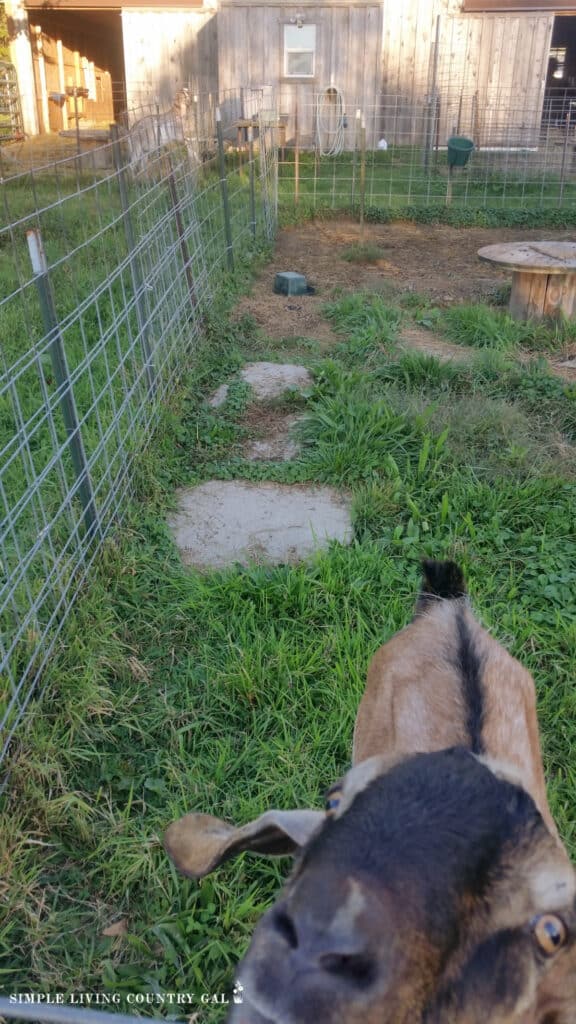 Supplies Needed
To install a movable panel goat fence, you will need the following supplies:
Movable panels (number depending on the desired size of enclosure)
Connectors or clips to attach panels together
Posts for support (optional)
Sledgehammer to install the posts
How to Install
Installing a movable panel goat fence is relatively easy and straightforward.
Determine the desired size and shape of the enclosure, taking into consideration the number of goats being contained and any obstacles in the area (e.g. trees, rocks).
Lay out the panels on the ground where you want to install them, making sure they are connected securely using connectors or clips.
Pound stakes into the ground and attache the fence with connectors.
If necessary, use additional posts for support to reinforce the panels and ensure they are stable.
Walk around the enclosure and check for any gaps or weak spots, making adjustments as needed.
electric netting Goat Fence
Electric netting fences are a popular choice for larger pastures or properties with varying terrain. They consist of tightly woven wires that form small squares or rectangles, creating a strong barrier that can keep out predators and contain even the smallest goats.
Pros: This type of fence is highly durable and can last for many years with minimal maintenance. It is easy to move alone making it a good choice for those who have little to no help.
Cons: Woven netting fences can be more expensive than other options and will not stand up well to heavy snow. It is important to regularly check these fences for any holes or weak spots, as goats can easily find and exploit them.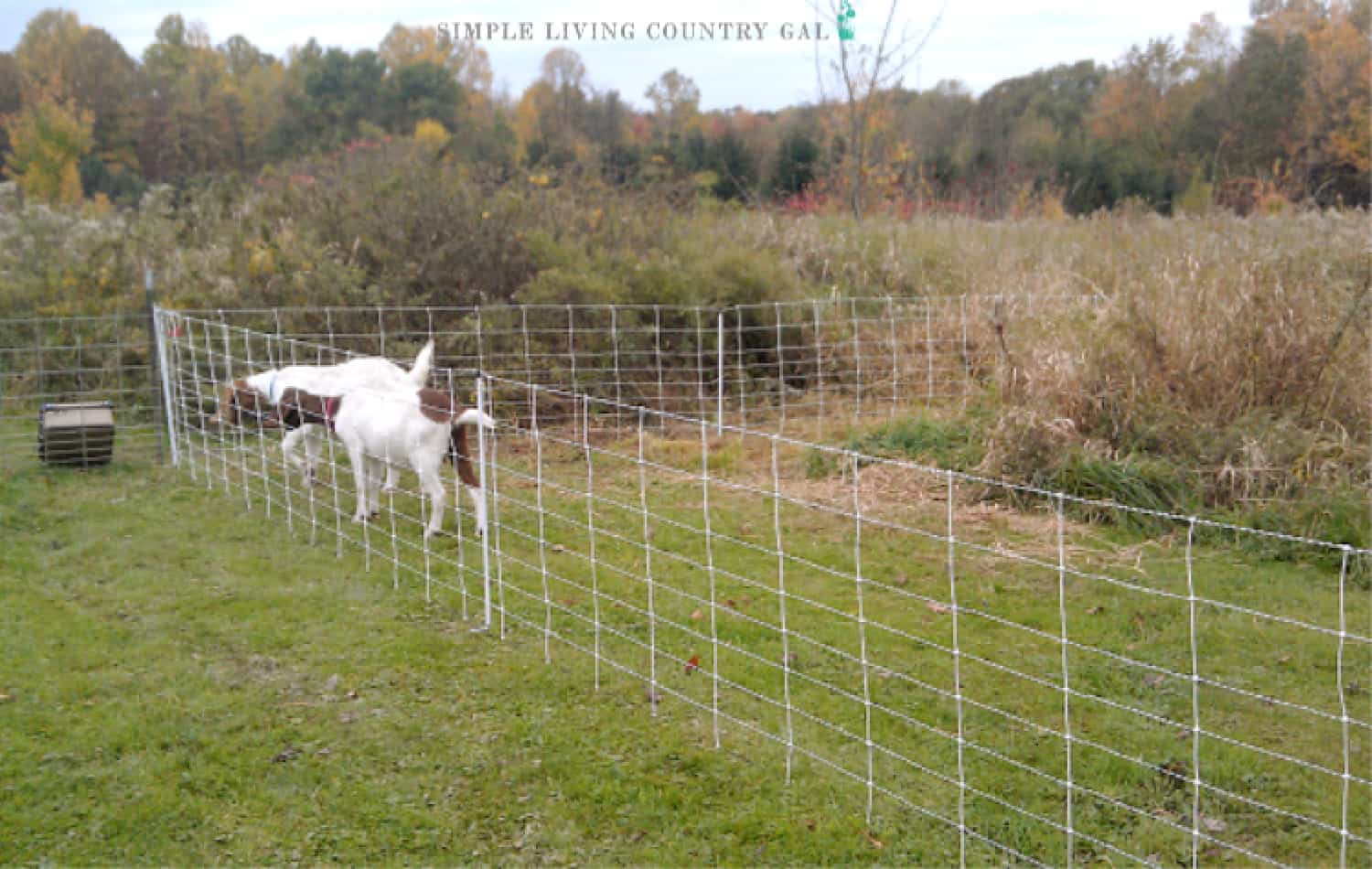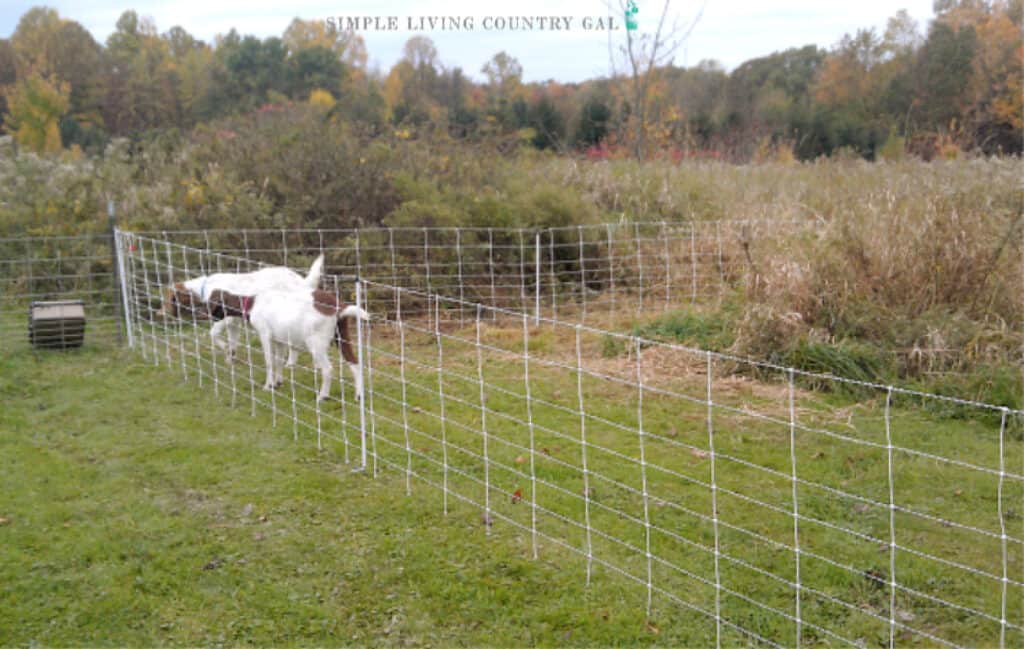 Supplies Needed
Woven wire netting
Solar box for power
Grounding rods
How to Install
Measure and mark out the desired perimeter of the enclosure.
Mow down the grass where the fence will be.
Begin by placing one end of a netting at a corner of the marked area and slowly unroll it as you move along the mowed line.
Continue unrolling pushing the posts into the ground as they come up.
Once the netting is in place, attach the solar box and grounding rods.
Test to be sure the electric current is working.
Turn off the fence and put your herd inside.
Close the fence and turn the current on.
A movable goat fence can be a great option for providing your goats with a safe and contained space. Whether you choose electric netting or woven wire panels, make sure to regularly inspect and maintain the fence to ensure its effectiveness. With proper installation and maintenance, a movable goat fence can provide peace of mind and promote the health of your goats on any terrain.
MORE GOAT FENCE RESOURCES: