urban gardening i
s the answer. This list of
urban Gardening
options will help you to grow everything you love no matter where you live.
Alternative Vegetable Gardens are a great way to start a backyard garden when you do not have enough room to do so.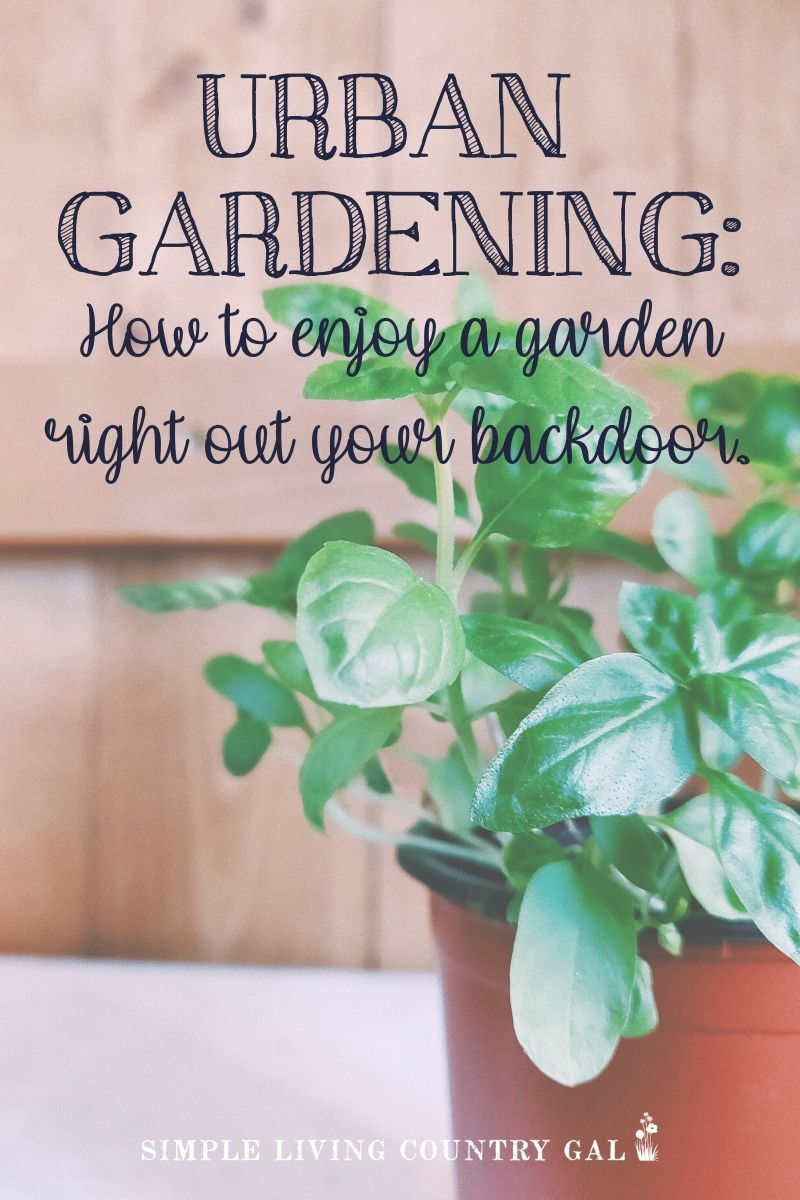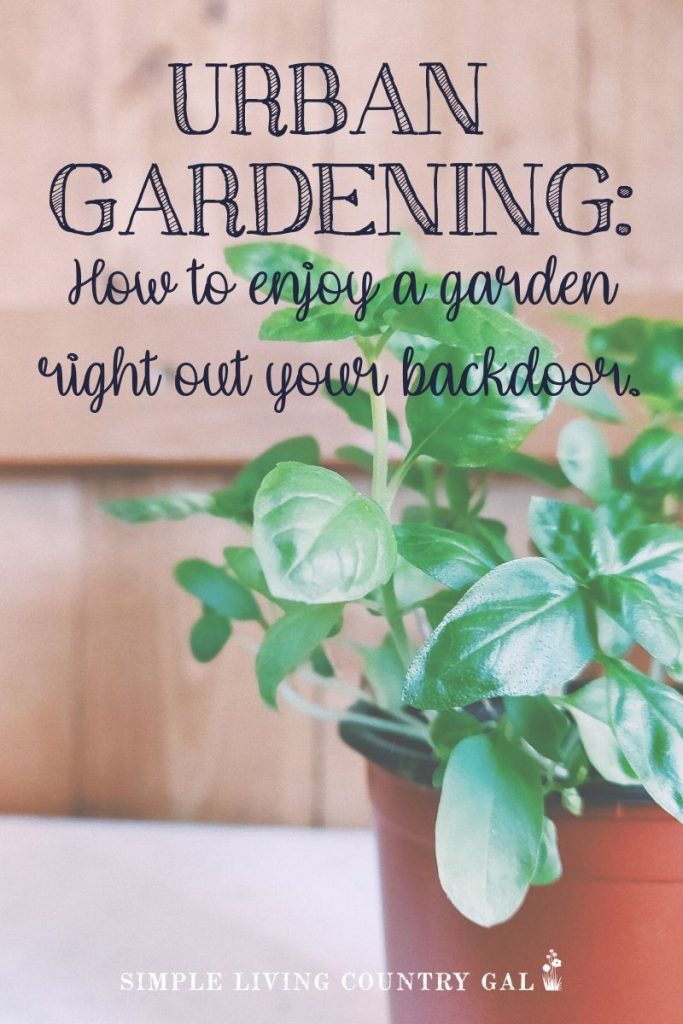 Having a garden full of veggies you love is the main reason so many folks start planting. But if you're a city dweller or live in the suburbs without a lot of land, gardening might prove to be a challenge.
Don't worry, there are several different ways to garden that can fit right in with almost any space. If you live in an apartment, condo, or townhouse, you can plant a patio garden or porch garden. And if you have a little bit of land, a straw bale garden or raised vegetable garden may be perfect for you.
How do I start an urban garden?
Urban gardening is all about alternatives, and with so many options growing vegetables no matter where you live has never been easier. Whether you use what you have or invest in an option that fits your location, fresh tomatoes are definitely something you can enjoy.
Urban Gardening Ideas:
Pots on a patio, balcony, or porch garden
Container garden
Window herb garden
Straw bale garden
Raised garden beds
Vertical garden
Trellis garden
Indoor garden
Let's take a look at some of these different ways to urban garden and break them down a bit more.
Urban Gardening
Containers are your friend when looking for alternative gardening options. If it's large enough to allow the roots to grow without restriction, it is an option to consider for gardening.
Patio Garden/Porch Garden/Balcony Garden
These types of gardens are perfect for apartment, condo, and townhouse dwellers. You don't need a lot of space, and you can plant a variety of vegetables, fruits, and herbs by combining a variety of containers.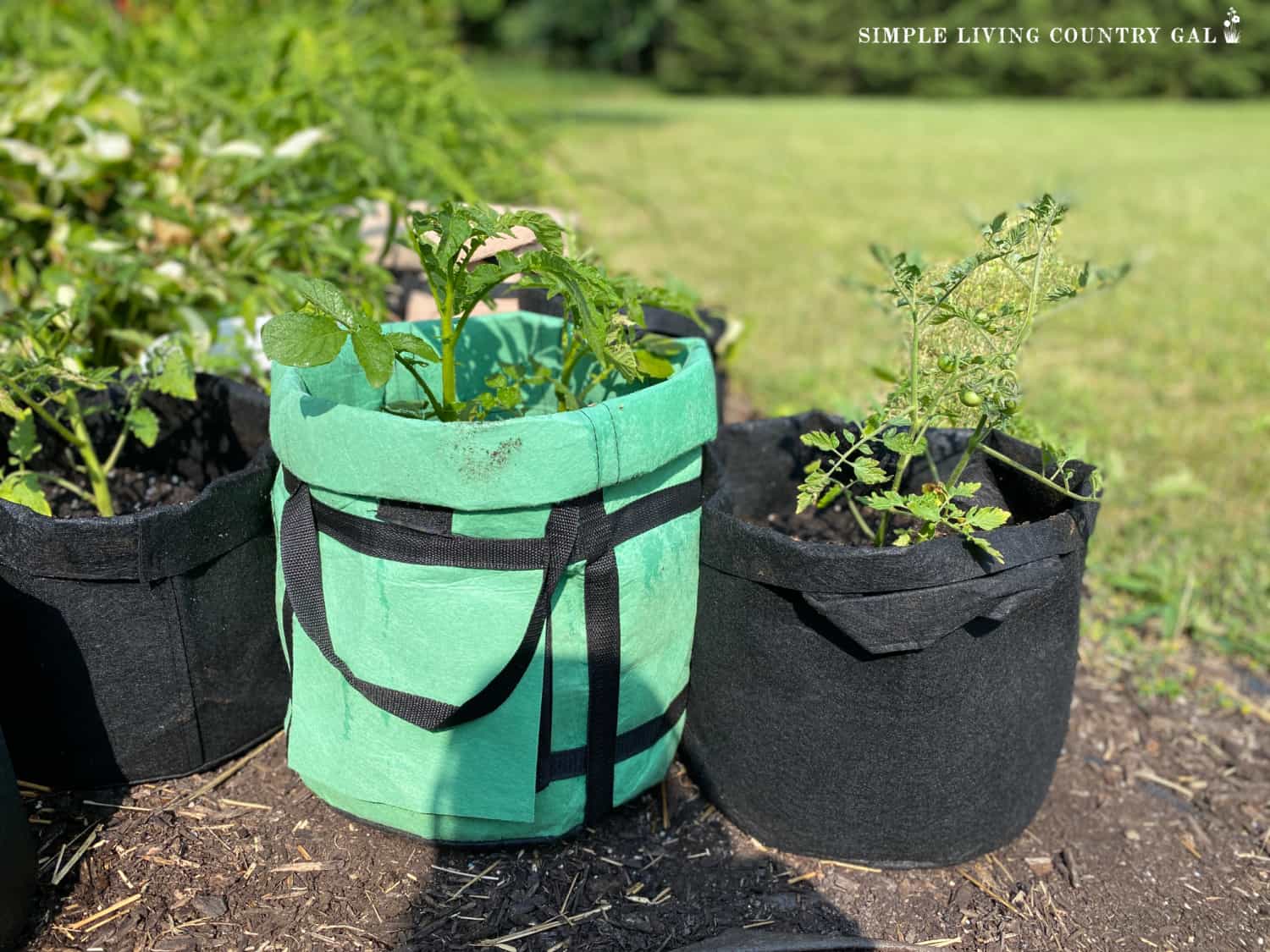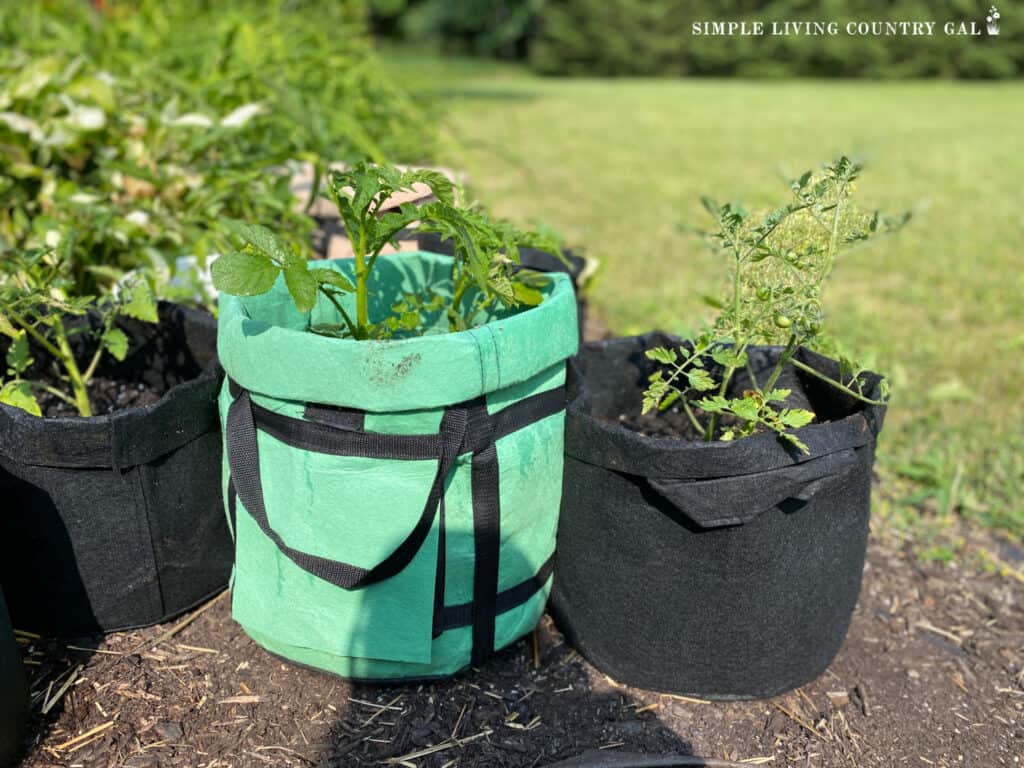 Grow bags are great for root veggies like potatoes and carrots. Simply fill them with soil, plant them, and place them where they will have enough fun to flourish. I love that there is a small window on the side that you can use to check to see how your root vegetables are doing.
If you love herbs, then you may want to try window boxes. These are long planters that hang on the side of a balcony railing. They are a bit shallow, but that is all you need to grow herbs. Since the roots of these plants are smaller, they do not require a lot of space to grow, and the roots don't need more than a few inches of depth.
Window boxes are also great for edible flowers that can be grown to place in salads or used to decorate desserts.
Another fun option is hanging grow bags that can be used for tomatoes and strawberries as well as other fruits and veggies. You can hang these types of planters from a porch ceiling or other overhang, allowing you to take advantage of additional space. You can also place a metal grid against a wall to hang baskets.
Your space will need plenty of light, at least 6-8 hours a day, and a source of water. While a watering can will work, a small garden hose is best. During the growing season and on excessively hot days, your plants will need to be watered more often to keep them healthy and make sure they produce a quality harvest.
One more tip to consider is before planting, be sure that your balcony or porch can handle the weight of several heavy pots filled with soil. You may also want to check the guidelines of your building management to make sure you're allowed to have plants and produce growing where you live.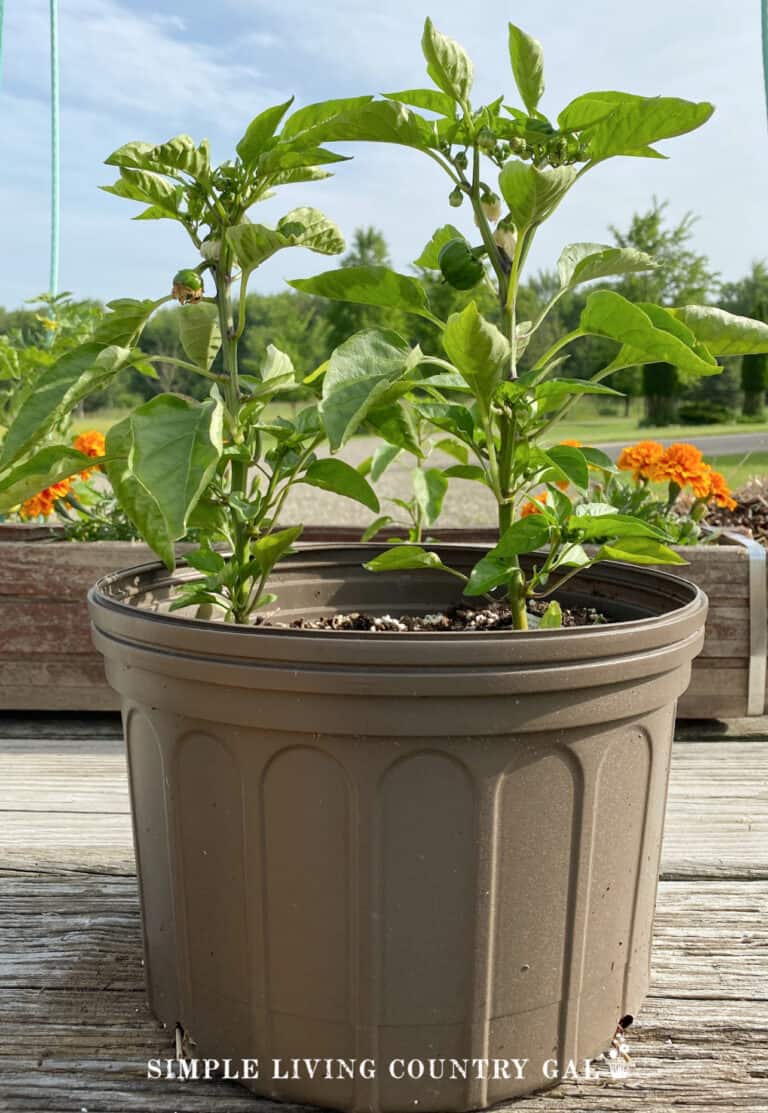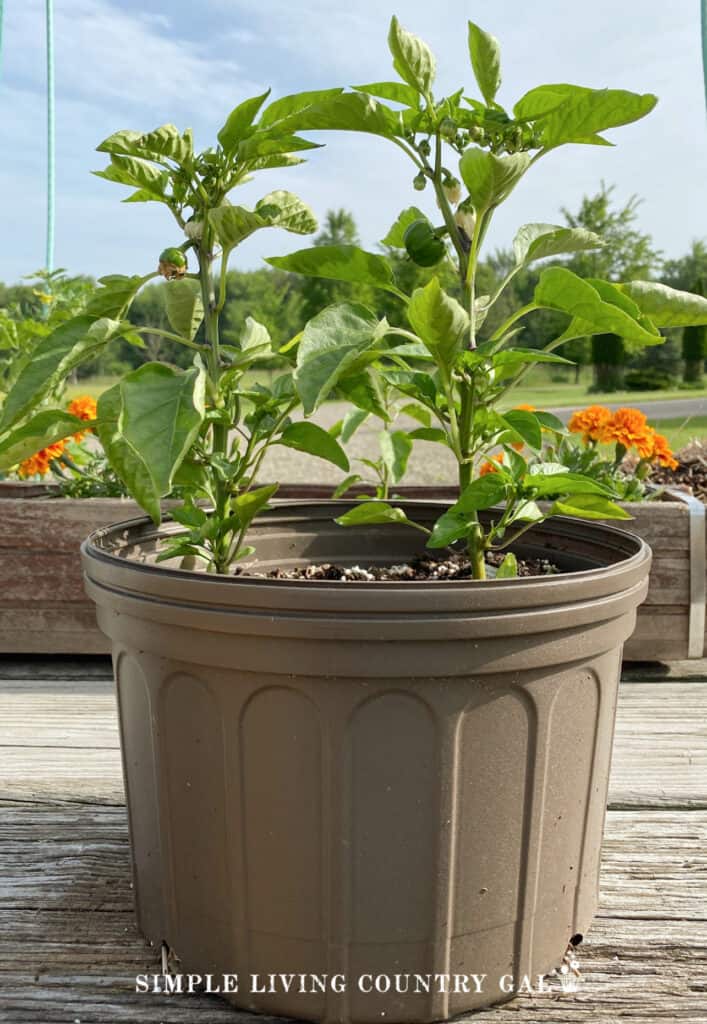 Containers and Raised Beds
Containers and raised beds are great options for people with knee issues, back problems, or other physical limitations. Since these containers are lifted, they're not as low to the ground, which means they require less straining.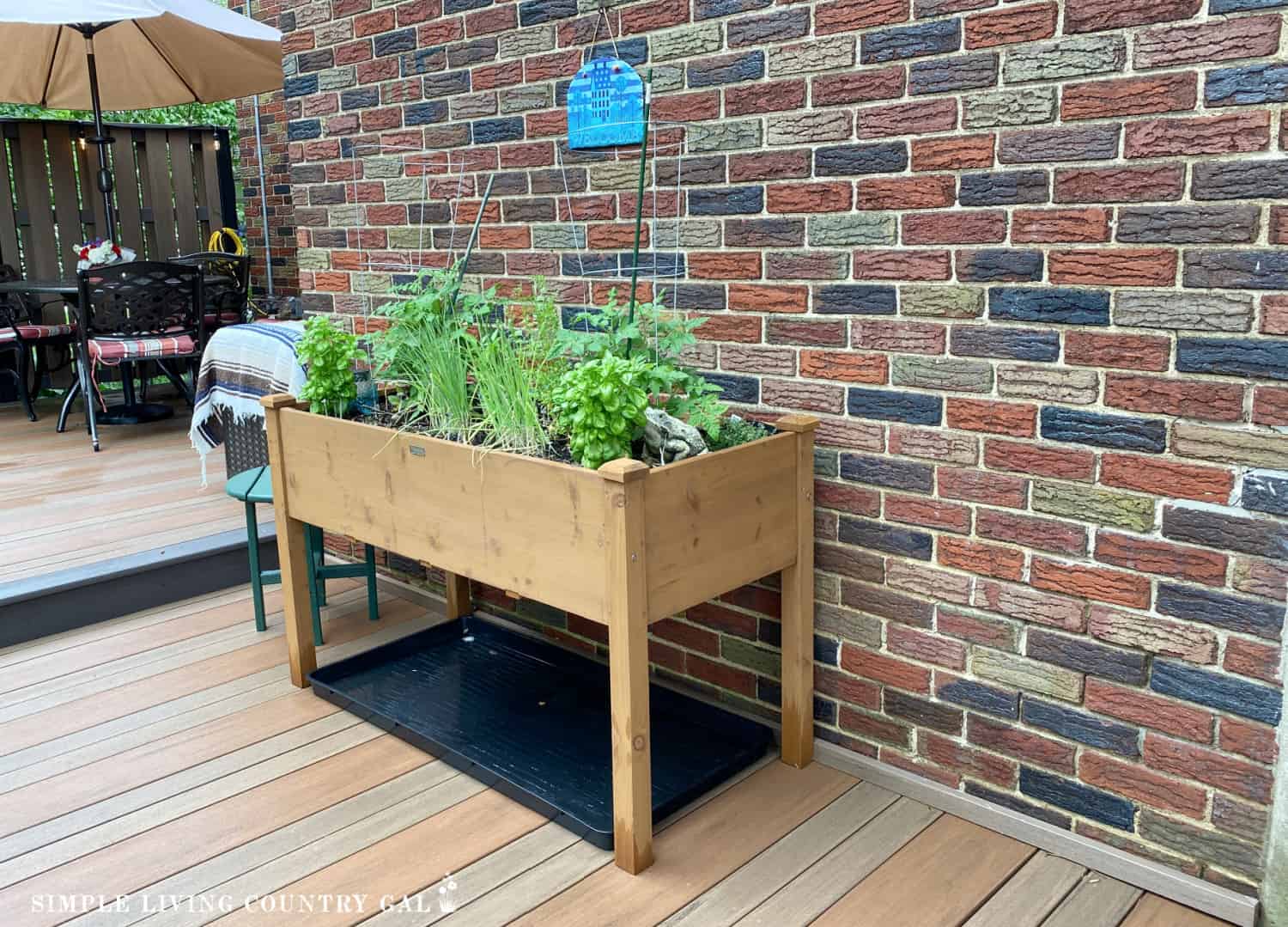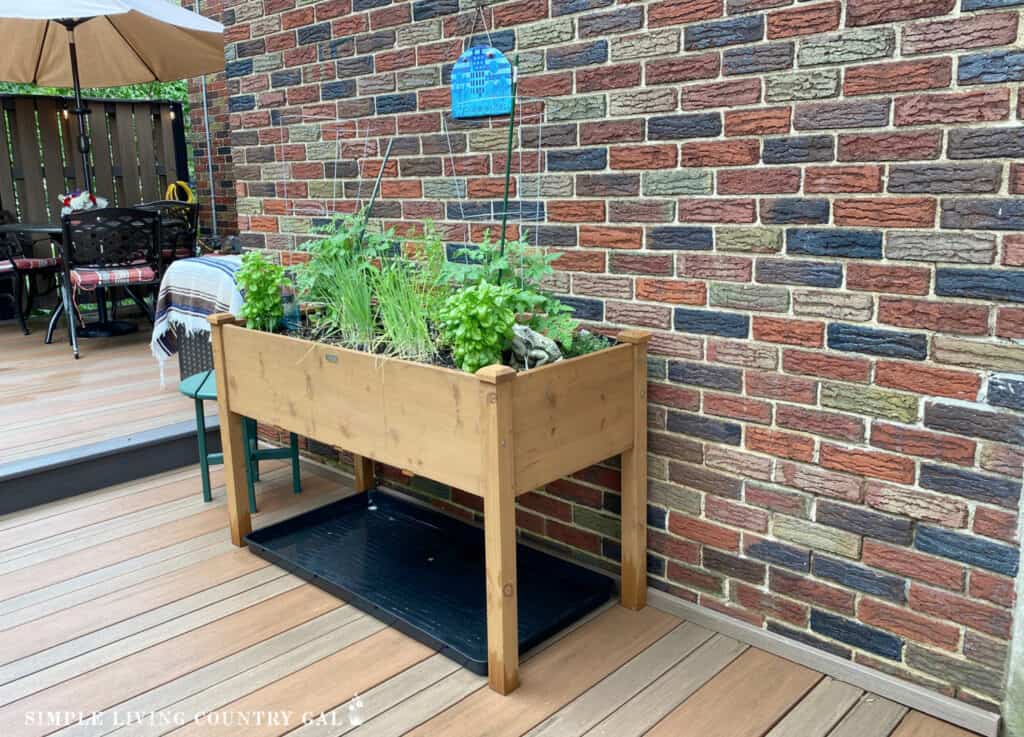 Another bonus is containers can be placed on stands or benches, bringing them up even higher so that you can avoid bending and kneeling altogether.
My favorite place to grow our garden is on an old picnic table. I can put containers on the bench areas along with more containers on the top. One picnic table can provide us with enough food to enjoy throughout the summer.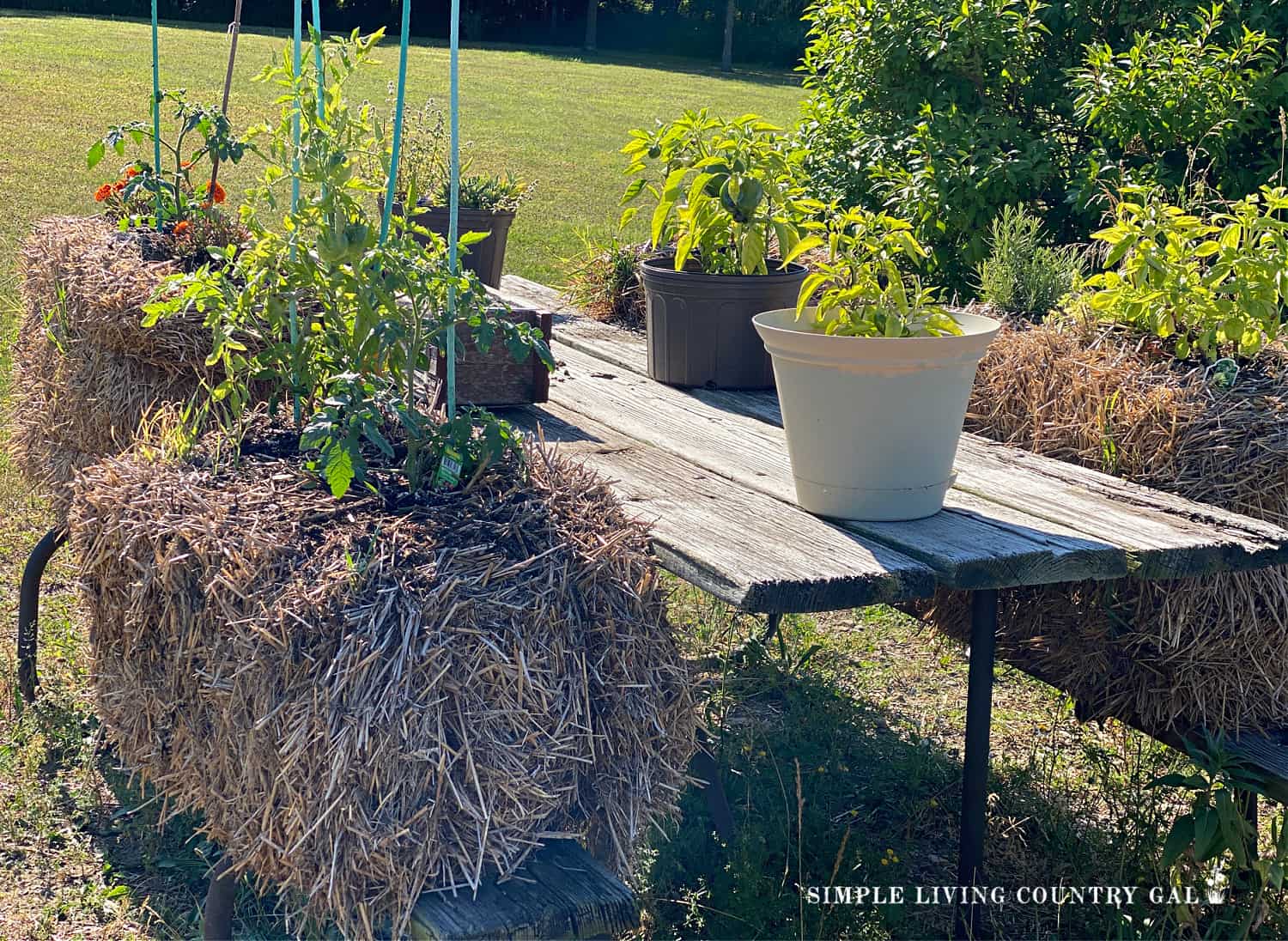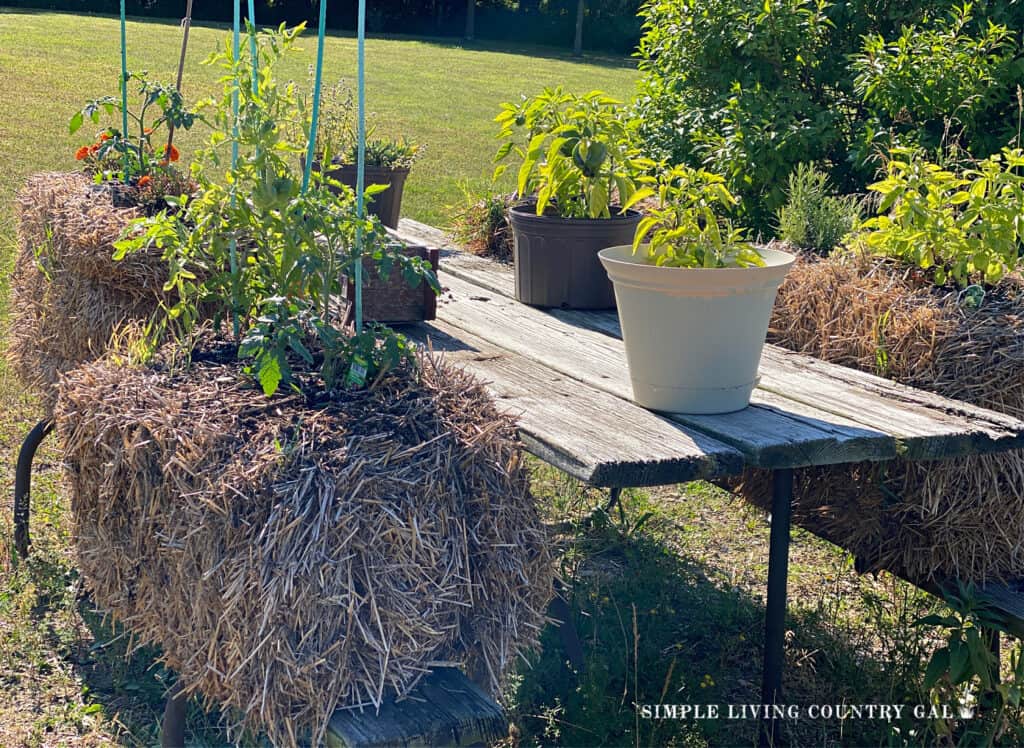 Planting in any kind of container or raised planter table will allow you to plant earlier extending your growing season a bit.
READ: HOW TO GROW PEPPERS IN CONTAINERS
Containers come in various shapes and sizes, so they're easily adaptable to the amount of space you have and the types of vegetables you want to grow.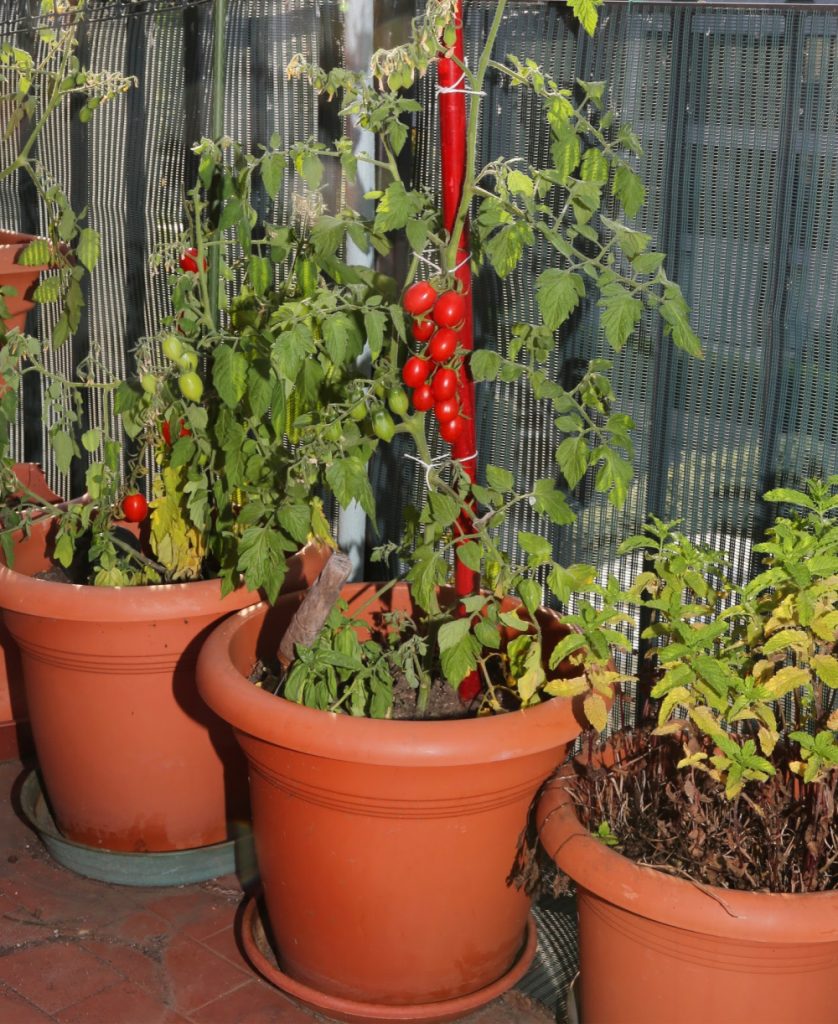 Raised vegetable gardens and containers can be placed in almost any space on any lawn, or even on a concrete patio.
Containers are less susceptible to weed growth than a traditional backyard garden. And although they can still attract pests, they're easier to control. Pests won't be able to reach your garden from below ground, and you can use specialty fabrics, caging, or fencing to protect them above ground.
Again, you'll want to choose a spot that gets good light for most of the day and has easy access to water. Since these types of gardens are usually a little bigger, they'll require more water which can be hard to accomplish with a watering can. Hose access is best.
Window Garden

for herbs and small veggies

If you don't have enough space outside but'd still like to grow some fresh herbs or veggies to cook with, all you need is a windowsill that gets good sunlight.

Decide how many herbs/veggies you want to grow or how many will fit in the window where you'll place them. If you are growing herbs, three to five pots is usually the right size. If you are looking to grow a salad garden, then a long container may work better.
When setting up a window garden, start with your containers. You can purchase individual pots that sit in a bowl or plate, a kit that includes pots and drainage tray, or you can make your own.
Be sure you have enough drainage. Using a hammer and nail, nail through the bottom of each can create drainage holes so excess water can drain out. Next, paint or decorate the cans if you'd like, and place them on a tray or in dishes.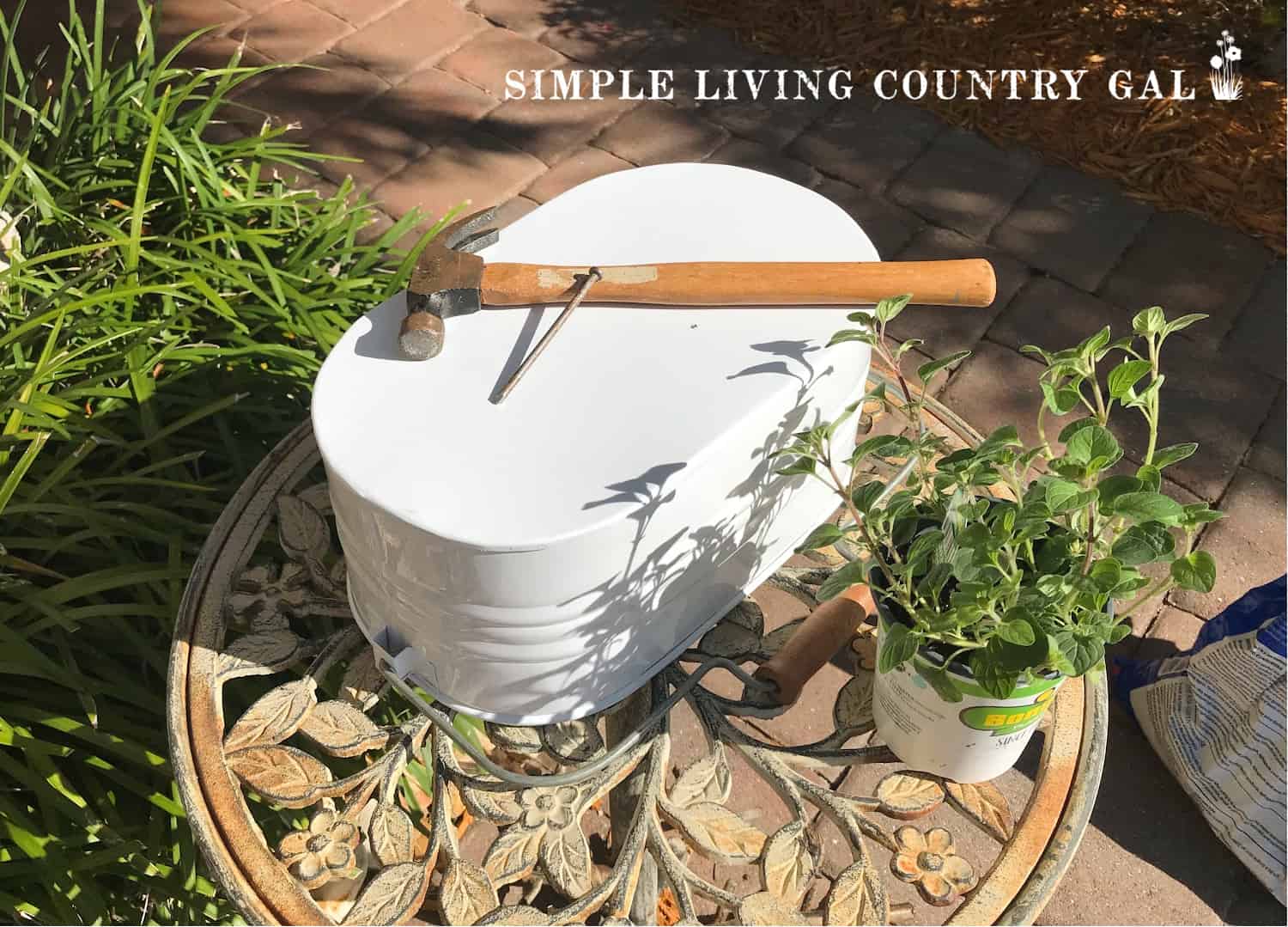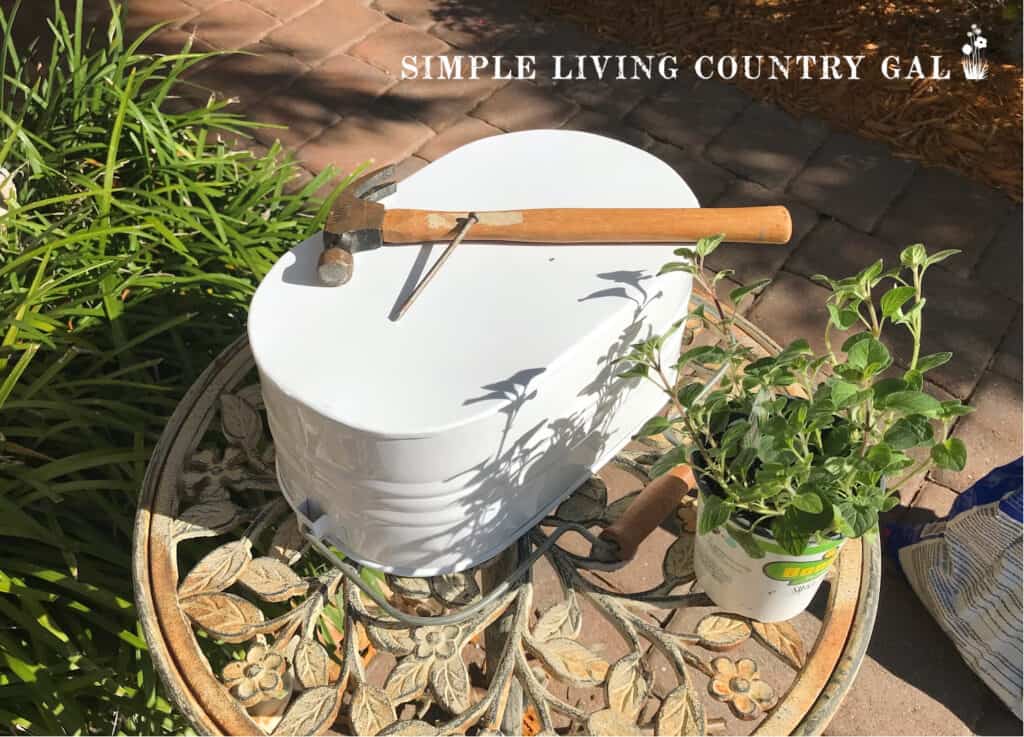 You can start with young plants that you can purchase at any nursery.
Add potting soil first.
Remove the plant from the container.
Using your hands, gently break up the roots.
Place it in the container, being sure it is at the right depth.
Add enough soil to hold the plant securely in place.
Water your plant being sure not to overwater.
Or you can start with seeds. Follow the packet's instructions as to the depth for planting.
Once planted, place your herb garden in a window that receives at least 6 to 8 hours of direct sunlight daily. Remember to water regularly and remove any dead or dying leaves so the nutrients reroute to healthy parts of the plant.
With proper maintenance, your window herb garden will provide you with plenty of herbs in no time.
Straw Bale Garden

s

Straw Bales can be used in a yard or on a patio area like raised bed gardens. This unique way of gardening is quickly becoming popular in many urban areas.

READ: Straw Bale Gardening for Beginners

All you need is a bale of straw, and you can grow 3 tomato plants right outside your kitchen door.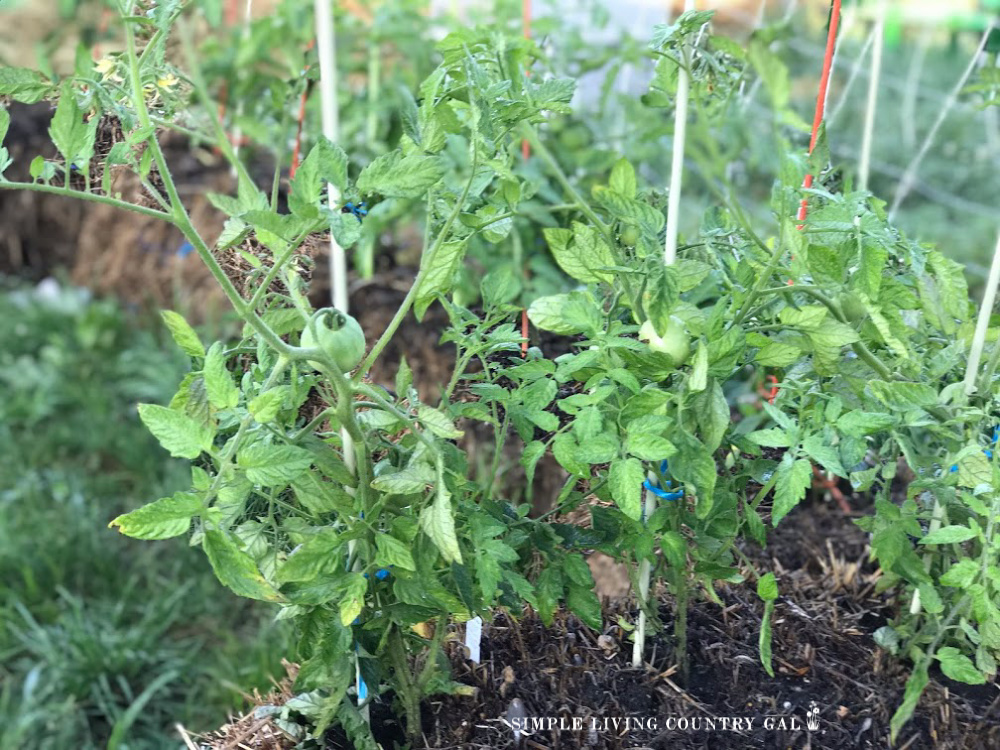 One thing to keep in mind with this gardening method, you must use straw and not hay.
Hay tends to have seeds along with weeds, and that is not the best environment to grow vegetables in. Instead, be sure to use straw as it is free of seeds and weeks.
Straw bale gardening is a natural way to grow and when the season is over, you can put the bales in a pile to compost down over winter.
Just like any other gardening method, the bales will need to be placed in a bright, sunny area, and they'll need regular watering.
Once properly conditioned, you can grow almost any kind of vegetable or fruit in a straw bale garden.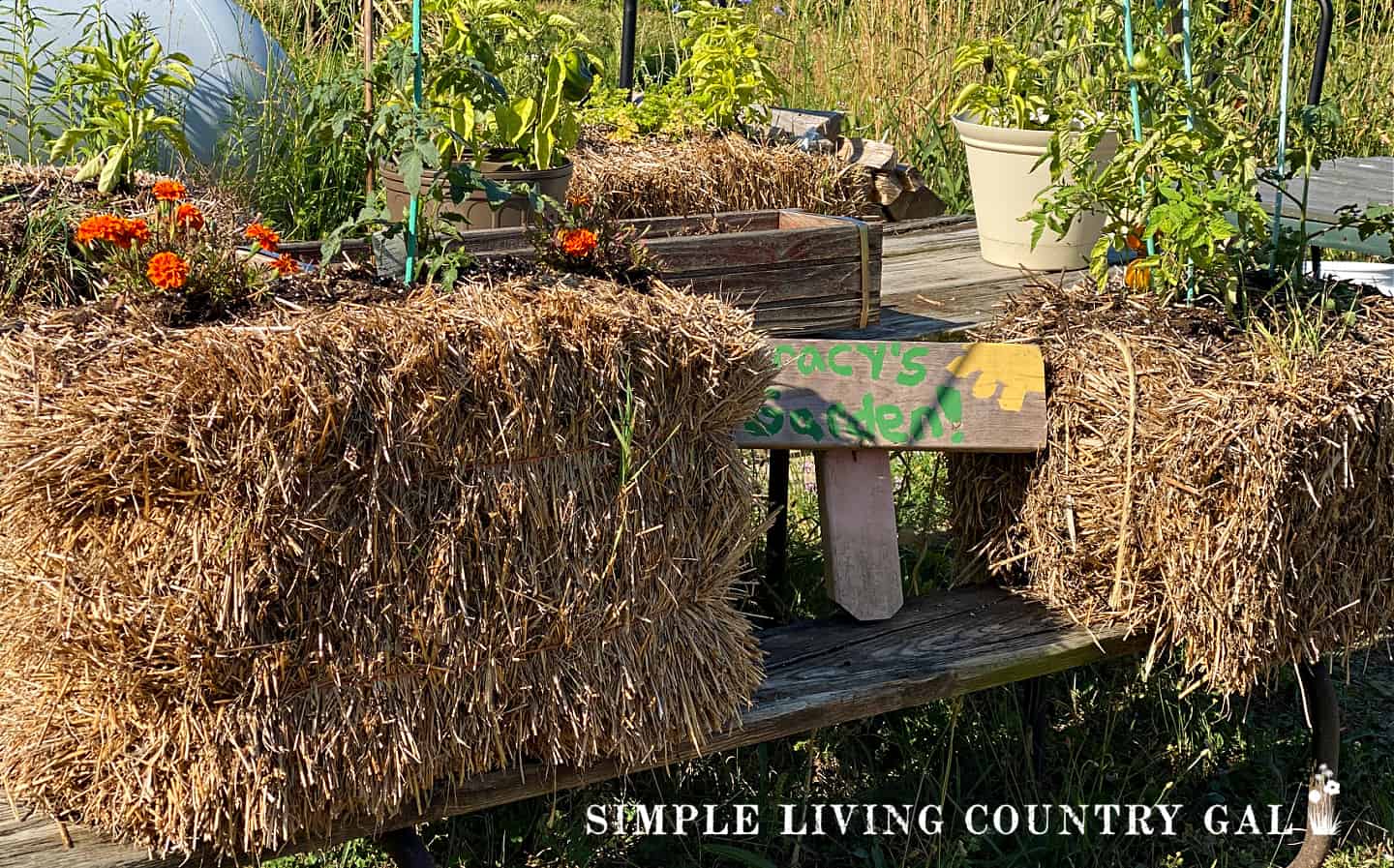 Vertical Garden and Trellis Garden
Vertical gardens can be grown against the side of a wall or fence using a simple wall hanging pocket planter. This is a great option to consider if you are limited on space.
Find a planter that works in your area and matches your style. Have fun with your setup so you enjoy your growing adventure.
Vertical planter options are endless; anything from a well-built wooden planter system to a recycled wooden pallet to upcycling plastic soda bottles.
This Vertical Wall Garden Planter is another vertical solution for gardening. It's both cost-effective and efficient. It allows you to grow a variety of shallow-root plants like lettuce, herbs, and even radishes.
A vertical garden is not only a great space-saver but it can also be used to create a privacy screen for your neighbors. It's also a great option for people with back or knee problems, as you won't need to spend time on the ground to plant, maintain, or harvest.
Vertical gardens are perfect for fruits, vegetables, herbs, and flowers, so you're not limited by what you can grow; if you want to grow it, you can.
Indoor Garden
If you're not looking for a large harvest or don't have an outdoor space, an indoor garden may be a good option for you as long as you have quality lighting.
Remember that sunlight can be challenging for an indoor garden, so you may want to consider choosing an out-of-the-way area to set up your garden and add some grow lights. Beets, carrots, lettuce, herbs, and spinach can all be easily grown indoors.
In addition, to grow lights, you'll need your containers at least 4 inches deep (6 inches for carrots), organic, all-purpose potting soil, and seeds or seedlings.
Indoor gardens may need a little more planning than outdoor gardens due to space constraints. Think about what you want to grow, what space you'll use, and the size of the pots you'll need before getting started. And if you need grow lights, consider those when planning the size of your space.
Indoor Garden Resources:
The nice thing about indoor gardens is that you don't have to worry about any of the outdoor elements like pests, extreme hot or cold weather, or too much or too little rain. You can grow a bountiful garden all year long regardless of the outdoor conditions.
Questions to Ask Yourself Before Planting Your Urban Garden
Before you head out to the store, consider these questions. All are meant to help you choose the best containers for the setup.
How big is your space?
Even a small space can accommodate a garden if you think about it from all sides. Do you have space for containers and window boxes? If not, you may want to consider a vertical garden or a window garden.
How much sun does the area get?
Your garden area will need at least 6 to 8 hours of sun to grow a fruitful garden. Many people tend to overestimate how much sun their area gets. To properly measure this, calculate the sun on a day when you'll be home all day.
Check the space hourly to see if it's getting full sun, partial sun, or no sun at all. Then determine how many hours your proposed garden area was in full sun.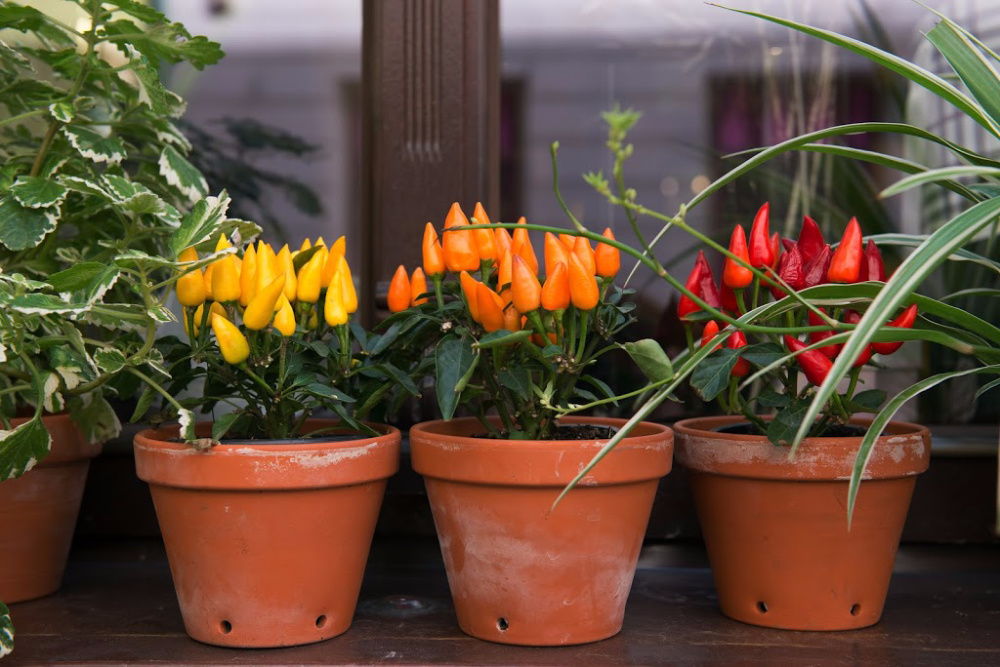 How hot or cold does the area get?
Extreme heat means more watering, so you'll want to think about how hot it gets, specifically in the area of your proposed garden, on any given day. The same can be said for cold weather.
A frosty night can kill your plants. If your area experiences a lot of these, you may want to plan a container garden that can be brought inside on a frosty night.
Does it get windy?
Balconies of high-rise buildings can experience a lot of wind which can be damaging to plants and cause them to dry out faster.
This is something to consider when planning a garden if you live in an apartment or condo and you're planning a balcony garden.
Do you have water access?
This is important because many plants will need to be watered twice a day during the growing season. This can be a hassle if you're planning for lots of pots or raised beds and you're only using a watering can. Hose access is best if possible.
With so many different ways to garden, you should be able to find one that works well for you regardless of the amount of space and sunlight you have available. Even with so many vegetable garden types, as long as they're well maintained, and get plenty of water and sunlight, they should grow well in almost any area.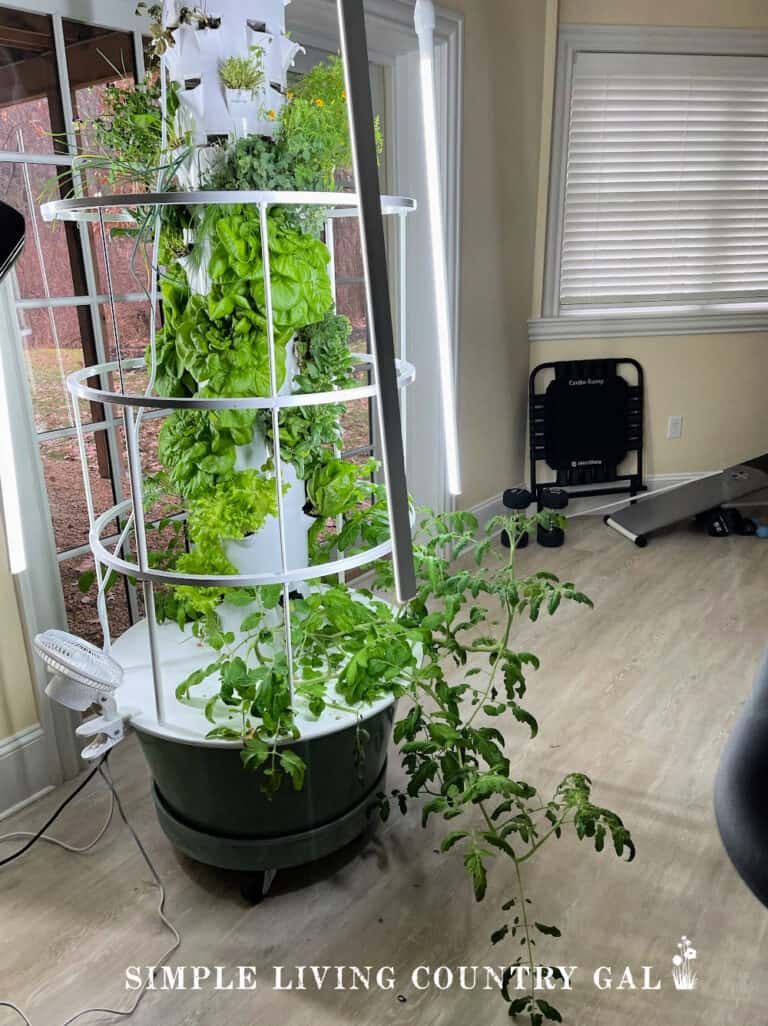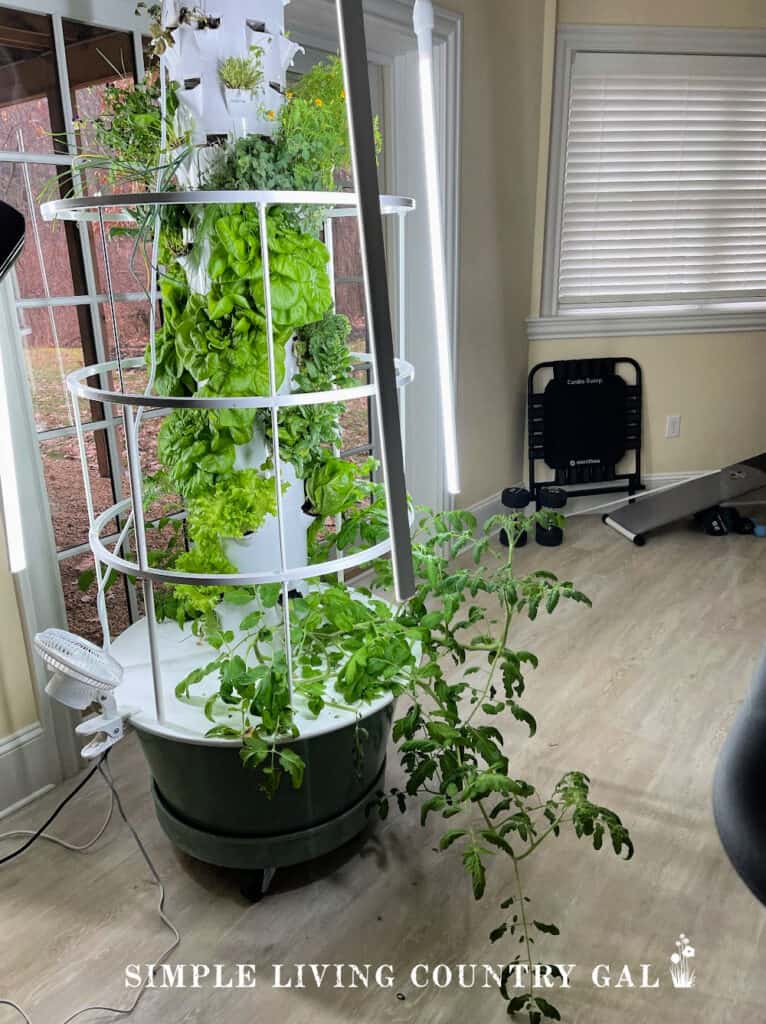 Gardening is not only a great way to enjoy healthy, organic produce, it's also a great hobby that provides relaxation and calm. And, it allows you to ensure that your favorite produce is available all year long.
With a little planning, you can grow a nice garden in almost any small or large area around your home. It doesn't matter if you only have a small balcony or windowsill or a large patio; a healthy garden can grow almost anywhere.
Do you have questions about urban gardening options? Please leave a comment below; we would love to hear from you.
More Gardening Resources:
If you live in the city and long for fresh produce outside your back door, then