Preserving Garlic Cloves From The Garden
If you are like me, garlic is a staple in your kitchen. I actually think Yankee Candle needs to come out with a garlic scent, I would so be buying that baby!
And because I have this love affair with garlic I want to make sure I have it year-round.
Two years ago I stumbled across a recipe for preserving garlic cloves in distilled vinegar that you then store in your refrigerator. I gave it a try and it is amazing!
The garlic tastes just as good in January as it does in September. I now do my garlic this way every year.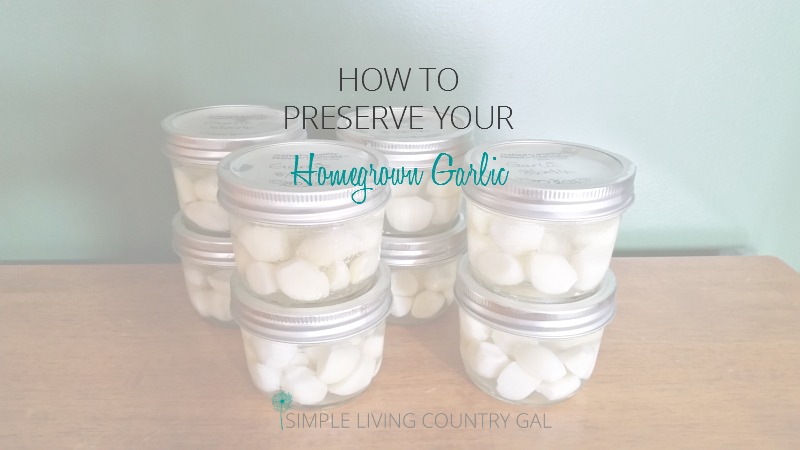 Preserving Garlic Cloves – A Step By Step Guide
Step #1. Choose your very best heads of garlic to preserve.
When you harvest your garlic take the time to go through each head choosing only the very best to preserve. Any cloves that are not the very best quality, set those aside to use up now. This will ensure that only the very best cloves are used when you can.
By selecting garlic cloves that are free from blemishes or other damage you will ensure it will be better able to keep the full year.
Take your garlic heads and break apart the cloves removing the excess paper as you do.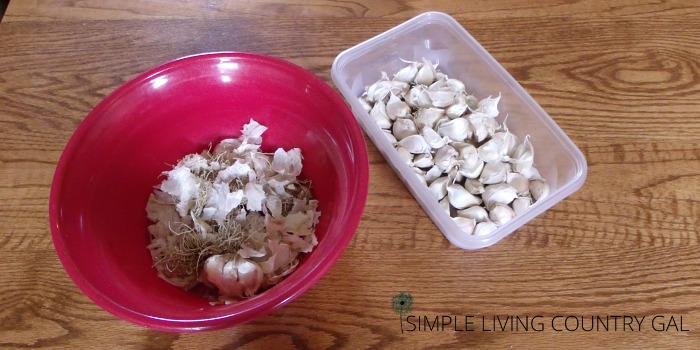 Step #2. Peel the cloves.
You will want to go through and remove the peals from all the cloves of garlic. Each and every one. The hardest part of this recipe is actually peeling the cloves. I know there are videos out there that show you how to quickly peel garlic cloves by putting them into a mason jar and given then a good and (very) hard shake, but I caution against this technique. When you shake the cloves this way you risk bruising them which in turn makes them less than optimal for canning.
If at all possible get yourself a pair of gloves. If you are peeling quite a few heads of garlic your fingers will start to burn. Wearing gloves helps to protect them. The snugger the fit the easier it will be to peel with gloves on. I like these gloves and find they work quite well. They are latex-free and approved for food and home uses. Be sure to pick the correct size before purchasing.
Using a small paring knife make a cut the very end of the clove where the hard base is found. Using the knife "peel" back the outer layer of paper skin. If done correctly you can usually get most of the paper off with just a few peels but it does take practice. Continue peeling until all of your cloves are done.
Once your cloves are all peeled, give them a quick rinse to remove any papers or dirt and set aside.
Step #3. Heat up your vinegar.
Add your vinegar to a large stockpot and bring to a boil. You want to be sure to use white distilled vinegar. A little over a gallon jug of vinegar will do about 12-4 oz jars of garlic.
To speed up this process you can put a lid on your stockpot. This will contain the heat speeding things up a bit. Either way plan on this taking a good 20-30 minutes.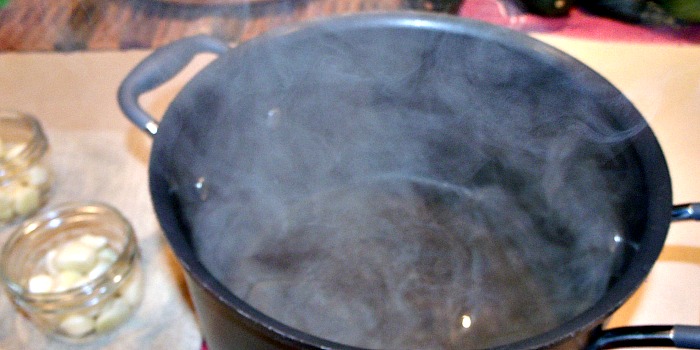 Step #4. Wash your jars, lids, and rings.
While your vinegar is coming to a boil, wash and rinse thoroughly your canning jars, rings, and new lids.
Notice I said "new" lids. Even though this is not a canning process the heat of the vinegar will still give you a seel and for that reason, you will want to use new lids only here.
Step #5. Fill your jars with cleaned cloves.
Once your jars are all cleaned you can begin filling them. Place your cleaned cloves inside being sure not to overfill. The trick here is to put in enough cloves that you feel you can reasonably use once the jar is opened. If you are not sure, I would fill each jar 1/2-3/4 full.
The best jars to use are these small 4 oz jars. The size is perfect, stores nicely, and can be used up in a short amount of time once you open them.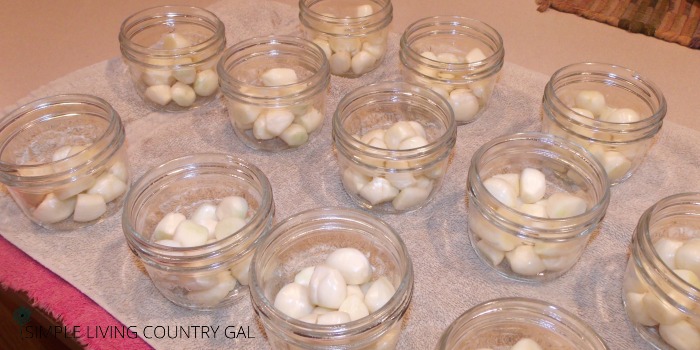 Step #6. Add hot vinegar to your jars.
Ladle the vinegar over the garlic, leave about 1/2″ of head-space. Wipe clean the rims of your jars with a damp cloth to remove any residue. By doing this you will ensure you get a nice seal. Using a new lid and ring close up each jar and turn fingertip tight.
Even though you are not doing a water bath, the heat from the vinegar will still give you a seal. Make sure you are not reusing lids.
Note: This canning method is not for room temperature and for that reason they need to be stored in the refrigerator.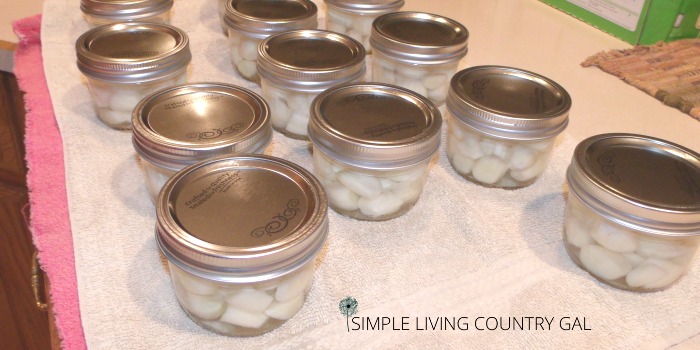 Step #7. Let the jars cool overnight on the counter.
Place your filled jars onto a towel to protect your kitchen counter and allow to cool overnight. Once cooled completely, label each jar with the date. You can now store your garlic in the refrigerator for up to one year.
I have used garlic a few weeks past the year mark with no issues, longer than that I do not advise. To be sure your garlic is still good simply smell the cloves inside. If you smell something off then the odds are your garlic has turned. Better safe than sorry, dump that jar and move on to the next one.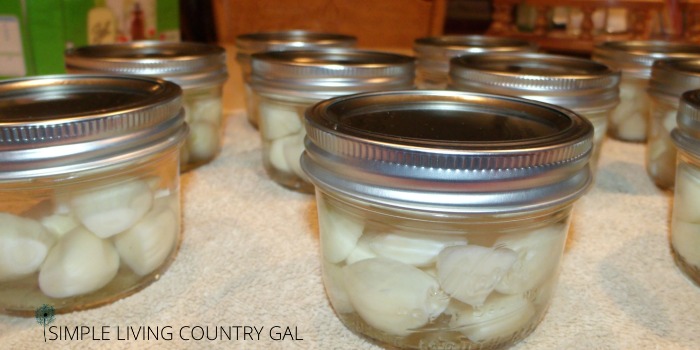 To use your garlic simply remove the cloves needed for your recipe. Rinse off the vinegar and dice, slice, or mince. Do not worry about your garlic tasting like vinegar the cloves do not absorb the flavor.
By using these tips on preserving garlic you can enjoy your summer harvest all winter long. This is also a great way to get your feet wet in food preservation.
Note: If you notice some of your garlic has turned blue, don't worry. Garlic turns blue in vinegar due to the sulfur compounds within it reacting with minute traces of copper in the vinegar. The garlic is still safe to eat after it has turned blue unless you notice other signs of spoilage.
Ninja tip: Once you begin using your jars of garlic, the metal lids can get a bit difficult to open. They also tend to rust quite easily. You can find these plastic lids just about anywhere. Once I open my jar I will replace it with a plastic lid. No more hard to open jars or rust. Another plus is you can write the date on the lid that you opened the jar. Works perfectly!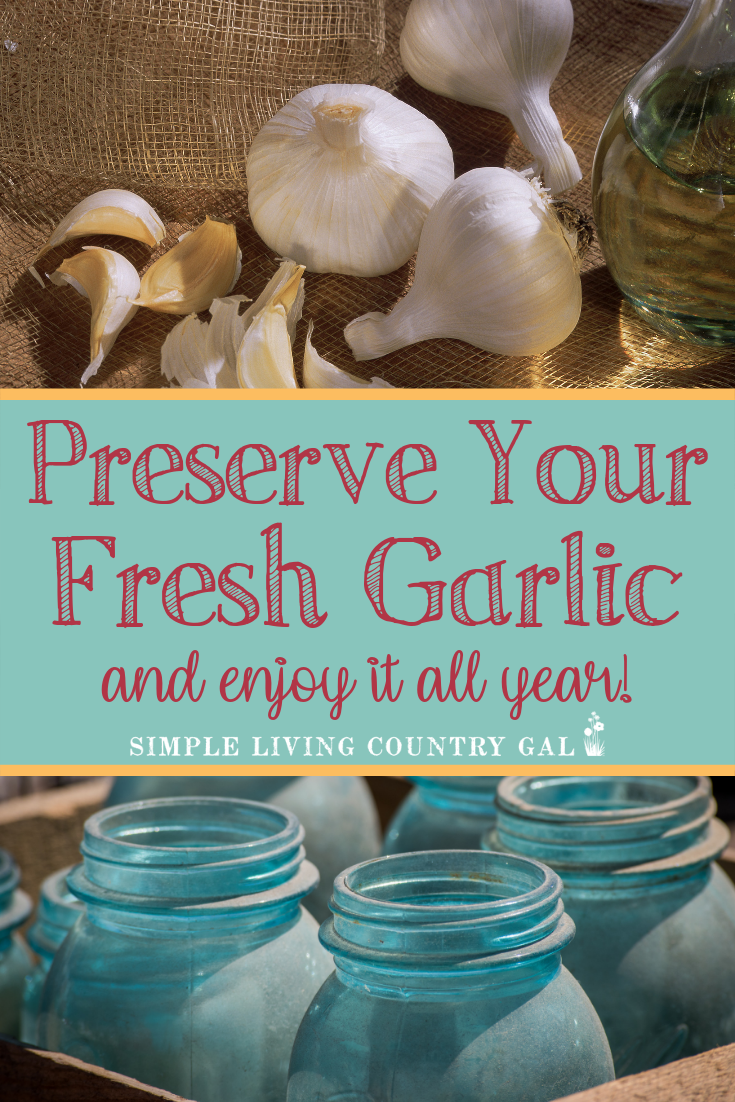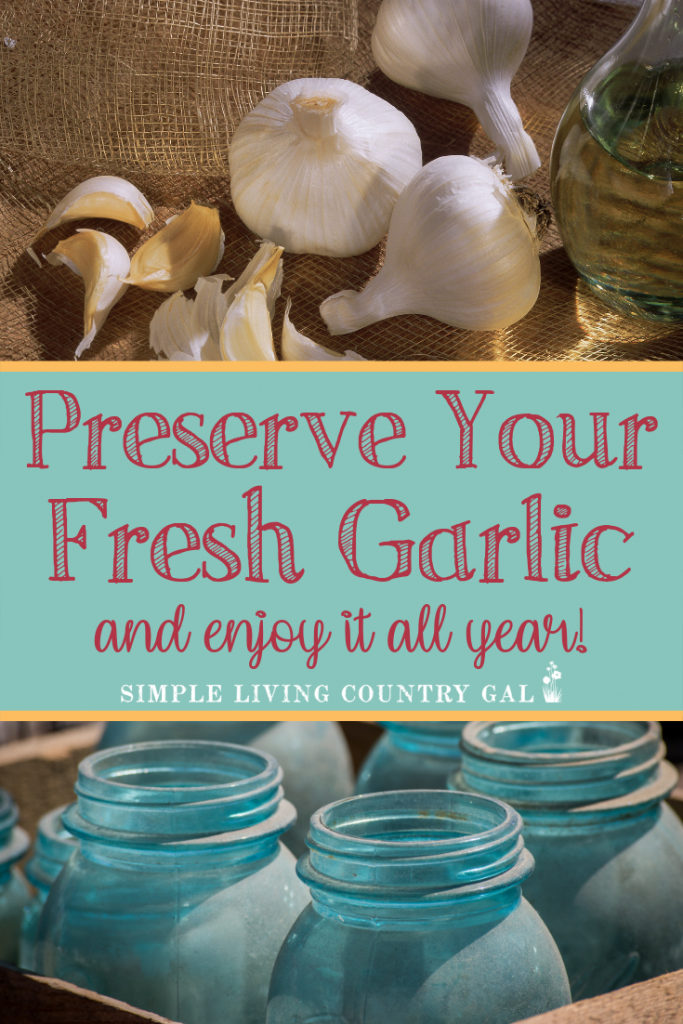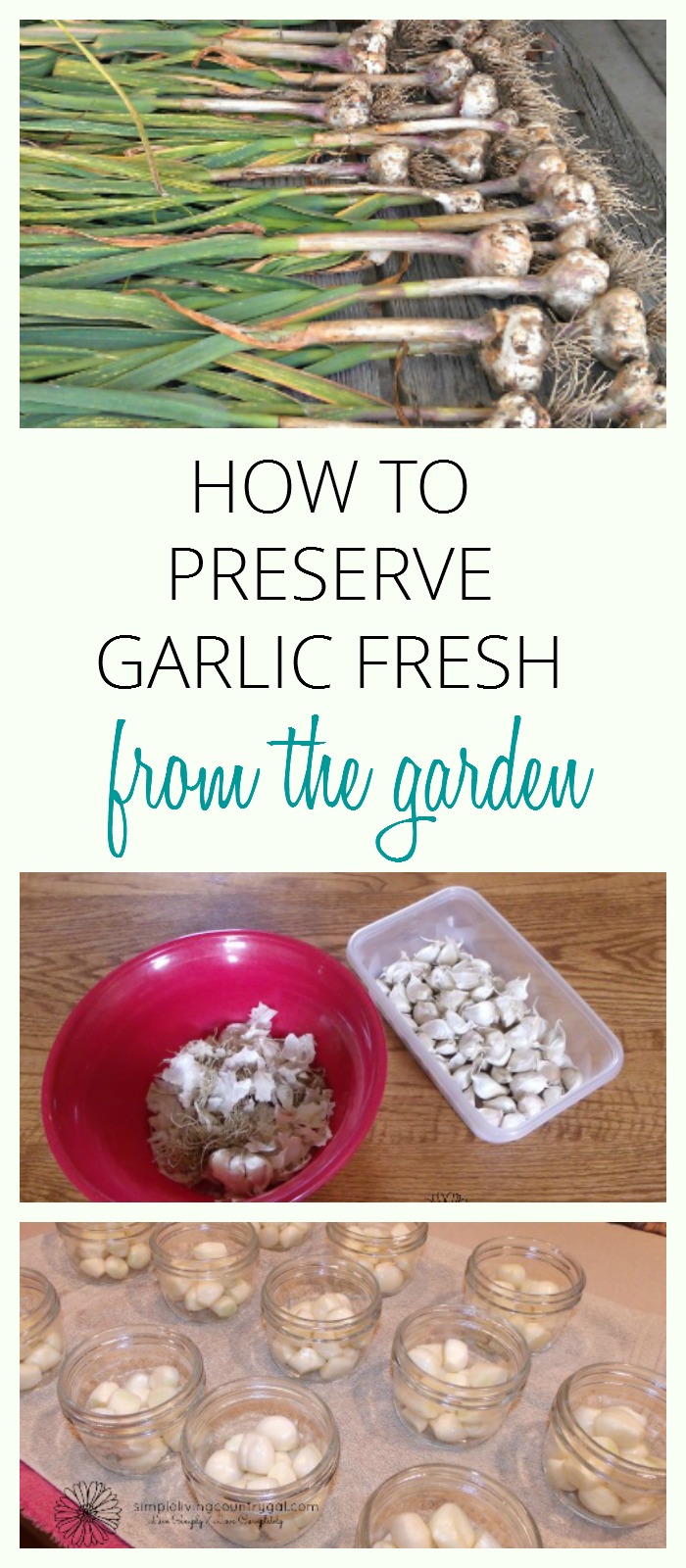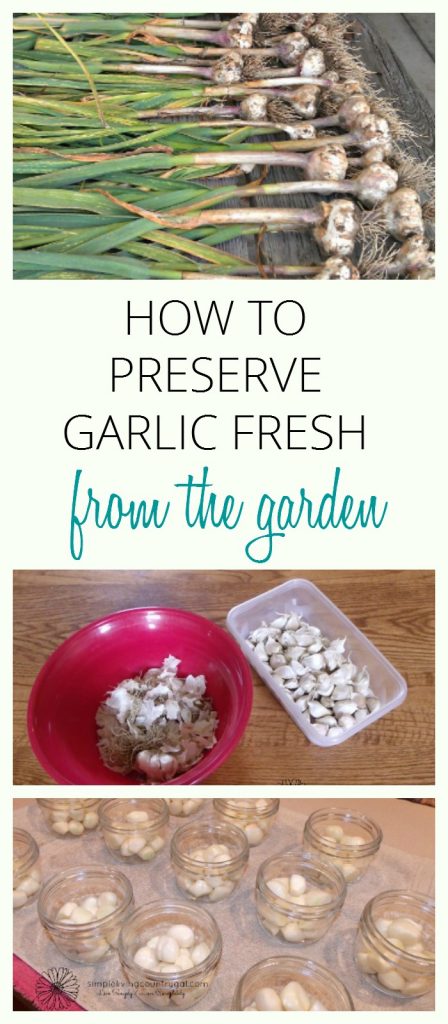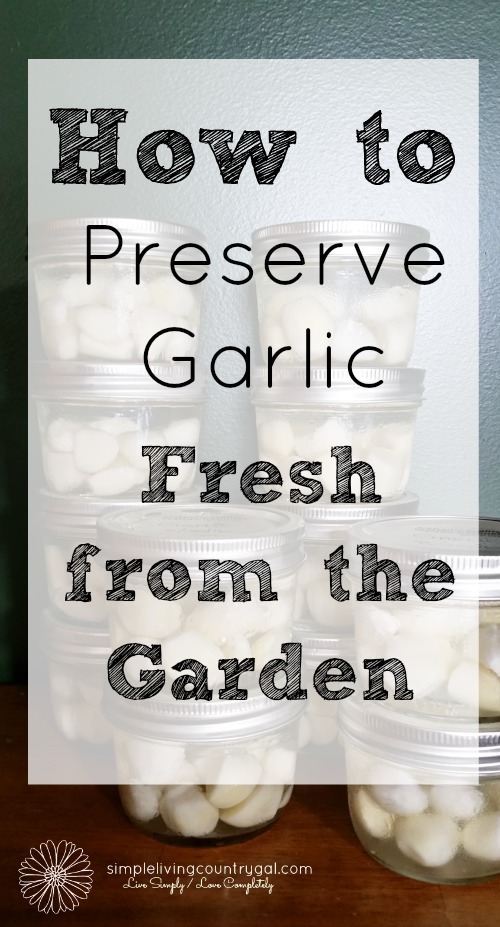 Separate your cloves from the head of garlic. Peel and clean.

In a pot bring distilled vinegar to a boil.

While waiting for the vinegar to boil, add your cloves to your jelly jars.

Ladle hot vinegar over cloves. Clean rims of jars with a clean towel.

Top with clean lids and rims.

Let cool over night on a towel.

Label lids with date and store in your refrigerator for up to one year.