There is just something about blueberries that make me think of summer. And if you want to know how to freeze perfect blueberries every time, you are in the right place. If done correctly you can fill your freezer with bags and bags of frozen blueberries that you can enjoy all year long.
Have you ever munched down on a handful of frozen berries on a hot summer day? If not, I highly recommend it. Not only is it declivous but blueberries are incredibly healthy.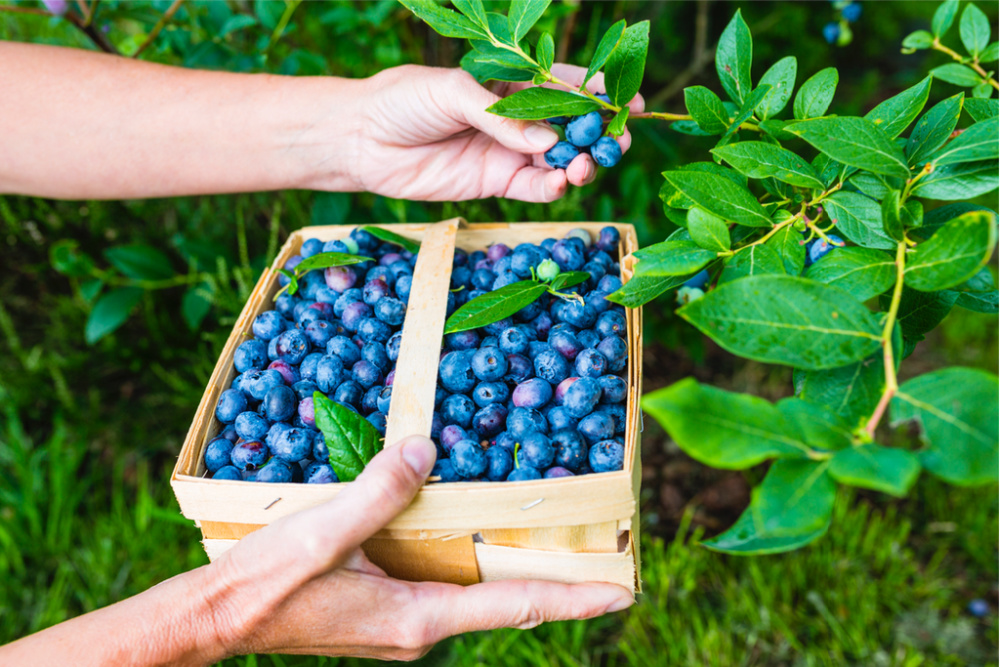 Why blueberries?
Known as nature's superfood, blueberries are one of the most popular fruits today. This nutrient-dense fruit has one of the highest antioxidant levels of any common fruit or vegetable making it a staple in most kitchens.
Just a few berries added to a daily smoothie or dish of oatmeal will pack your body with a powerful punch of health benefits you simply can't afford to miss. Blueberries are also a natural sweetener and can, in most cases, help you to replace sugar in smoothies, oatmeal even yogurt.
On the downside, blueberries do have a short harvest period and for that reason freezing berries is the next best way to ensure you can enjoy them all year.
Freezing berries, however, can be a bit tricky but if you follow a few simple steps you can fill your freezer with delicious berries to enjoy all year long.
How to Freeze Perfect Blueberries Every Time
Step 1. Start with the freshest berries.
The second you pick a blueberry the clock starts ticking and the vitamins and nutrients begin to diminish. In order to be sure you are freezing the very best, you will want to prep and freeze your berries as close to picking time as you can.
Step 2. Wash and clean your blueberries.
Go through your berry harvest and remove any stems, leaves, debris, or damaged berries. Doing this step will allow you to eat directly from the bag knowing you will only get berries and not other surprises.
To wash blueberries, place in a colander, and run under a stream of cool water. Allow to drip dry a bit to help remove the excess water.
Step 3. Allow blueberries to dry.
This part is important and one I skipped over in the past giving me "chunks" of frozen berries instead of nice individual ones. If there is water left on the berries when you freeze them, they will freeze together instead of individually. To prevent this I like to lay them out on a paper towel for a few minutes. This will usually be enough as the paper towels absorb the excess water quite quickly.
Step 4. Par freeze your blueberries.
Another important step is par freezing your blueberries before bagging them up. By doing this you will freeze each berry keeping them from clumping as one in the bag.
Place berries on a foil-lined baking sheet and put it into your freezer for about 10-20 minutes.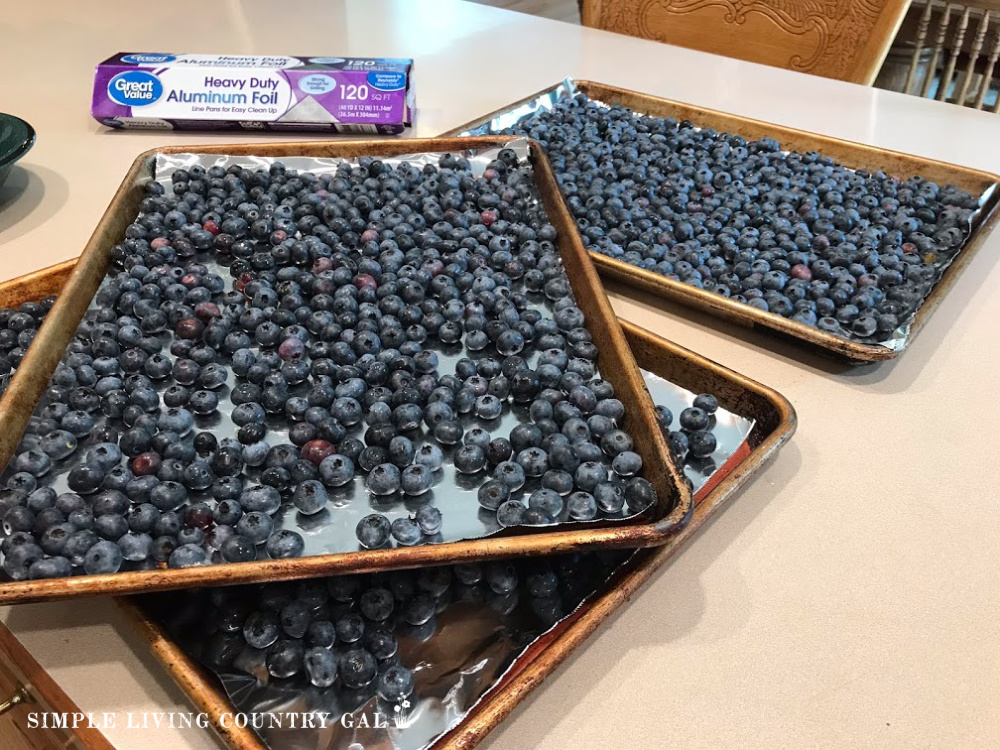 Step 5. Place into labeled freezer bags.
Once frozen you can now fill up your quart-sized freezer bags. Once filled, gently remove as much air as you can and seal the bags shut. The less air you have the less chance of ice crystals forming in the bags.
SLCG PRO TIP: Don't forget to label your bags with the month and date. Keep things organized by using a basket to hold your freezer bags and keep them all organized by food type. You can read tips on how to do this HERE.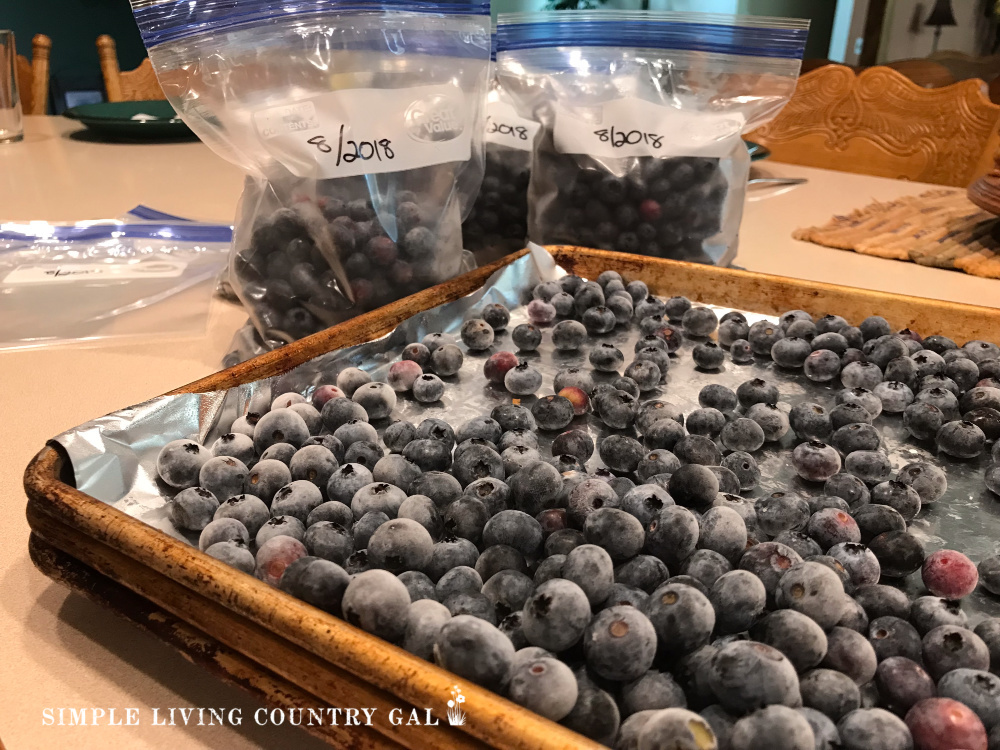 Filling your freezer with delicious fresh pick food from your garden (or someone else's) is the very best way to enjoy your harvest all year long. Now that you know the trick to freezing blueberries you can do the same steps with any other berry you can find.
Sort through your freshly picked blueberries. Remove any damaged fruit, stems, or debris.

Wash gently using a colander and cool water.

Allow berries to dry on a paper towel for 10 minutes. It is important to remove as much water as you can. Avoid patting dry with a towel as you will risk damage to the fruit.

Lay the berries in a single layer onto a foil-lined baking sheet. Place into the freezer uncovered for 20-30 minutes.

Once frozen, place berries into a dated and labeled 10-quart sized freezer bag. Remove all of the air with a straw and seal. Freeze for up to one year.
In order to keep as many nutrients with the berries as possible, the trick is to freeze them as close to picking as you can. If you plan to pick your own berries remember to factor in the washing, drying, freezing time to your day. This will ensure you get it all done at one time giving you the very best berries with the most vitamins and nutrients you can.
This recipe can be used for any amount of berries. Keep portions to 2 cups per 1-quart bag to ensure freshness. Remember to remove the air each time you reclose the bag to keep berries from forming ice.