When it comes to feeding chickens you may be surprised to know they are pretty self-sufficient. As long as they have a place to get water and feed, they will just find throughout the day on their own.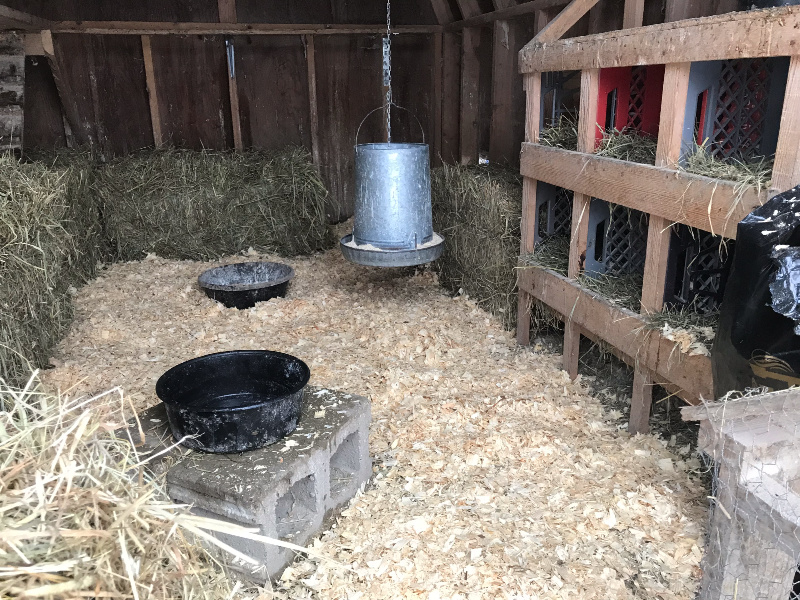 The trick is to be sure you are giving them fresh water every single day and checking on their feed as well.
I have found that if you always offer fresh water in clean bowls your animals will drink more throughout the day. And if they drink plenty of water each day, they tend to be and stay much healthier.
Waterers and feeders hang in your coop from a sturdy chain. Since chickens scratch at the ground pretty much all day long, their food and water can get dirty quite quickly. By hanging their food and water, it will keep most debris out.
You will want to hang your food away from your water so there is plenty of room for your flock to eat and drink when they want and need to. If you have quite a few chickens I would suggest multiple water and feeders to help reduce henpecking. Something that tends to happen when quarters are tight.
READ: HOW TO CLEAN OUT THE CHICKEN COOP NATURALLY AND SAFELY
Chicken Waterers
There are several types of waterers on the market and I will go over each for you quickly here.
Galvanized chicken waterer
This is a heavy-duty waterer that you can fill and hang in the chicken coop. This waterer is pretty rugged although I have seen it rust up after a time. This option does not work in cold climates since the water will freeze overnight and getting it out is nearly impossible without damaging the waterer.
Plastic chicken waterer
This is a thick plastic waterer that you can also fill and hang like the galvanized steel option. This is a much more affordable option but it does not hold up well in cold climates. When the water freezes this type of waterer tends to crack quite quickly.
Water bowl
This is just a simple rubber livestock watering bowl that you fill with water and put up off of the ground in your coop. Since you cannot hang this type of waterer. you will need to get it up to eye level if possible. Cinderblocks work great for this. I have found that this option works great in a very cold climate. Since all water will be frozen each morning where we live, this bowl really does hold up the best. I simply put it upside down on the ground outside of the coop and bang it to release the ice.
After years of raising chickens, I prefer the plastic option in the summer and the rubber bowl in the winter.
READ: HOW TO PREPARE YOUR CHICKEN COOP FOR WINTER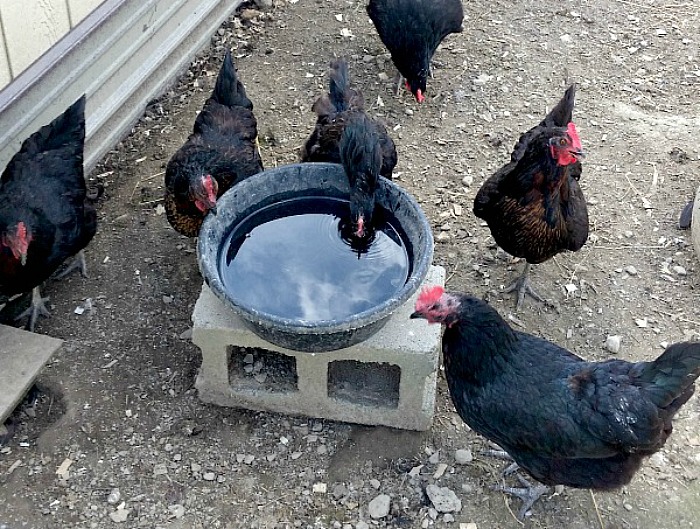 Chicken Feeders
just like with the waters there are a few options each with their own list of pros and cons.
Galvanized Steel Feeder
Made just like the waterer this is a more expensive yet pretty durable option. I purchased ours over a decade ago and it is still going strong. It works well with pellets, crumbles, or any other type of chicken feed. This feeder is all one piece and can be a bit difficult to clean.
READ: HOW TO USE APPLE-CIDER VINEGAR FOR HEALTHIER CHICKENS
Plastic feeder
A cheaper option compared to the steel feeder. It works the same way and does well with all types of chicken feed. It does not, however, stand up quite a well to chicken pecking and their sharp beaks. I have found, over the years, that the pecking takes a toll and my feeder has many dents and even small holes in it now. This feeder comes in two pieces and if you fill it completely you run the risk of the bottom falling off from the weight. On the good side, it is quite easy to clean.
For our chicken coop, we prefer the galvanized steel option for feeding our chickens. We just have found that it stands up quite well and can handle the weight of it even if completely full.
The chains for your waterers and feeders will need to be a good sturdy chain. You can then put a few nails in your coop and raise and lower the feed and water as needed. This will happen as the chickens grow and if you use the deep litter method. Your goal here is to have things right at face level of the birds to make it easy for them to access as needed.